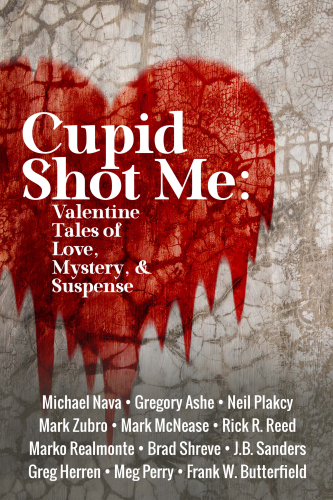 Preview
ebook
paperback
Cupid Shot Me: Valentine Tales of Love, Mystery & Suspense
Eleven award-winning queer authors come together to spin tales of murder, horror, and suspense all during a Valentine's Day you won't soon forget!
From the Introduction by Michael Nava, celebrated author of the Henry Rios mysteries:
The stories in Cupid Shot Me fall somewhere between the classic Richard Rodgers tune "My Funny Valentine" and the gangland Saint Valentine's Day Massacre. You'll find bushels of red roses but some may be lethal, and watch what you eat at that romantic dinner because that exquisite morsel on your fork may be poisoned. You'll definitely want the bomb squad to inspect that enormous box of chocolates before you open it.
Here's who you'll find under the covers of this book:
Gregory Ashe - "Responsible Adults"
J.B. Sanders - "Glen & Tyler Skip Dessert"
Neil Plakcy - "Cabbage Key"
Mark Zubro - "Roses Are Dead"
Mark McNease - "Paper Hearts: A Marshall James Thriller"
Rick R. Reed - "I've Been Inside Your House"
Marko Realmonte - "Paris"
Brad Shreve - "Bound to Love"
Greg Herren - "This Thing of Darkness"
Meg Perry - "Speed Murder"
Frank W. Butterfield - "Let's Fall in Love"
These eleven tales about love will mystify, chill, and thrill you! They might even send you diving under the covers with your very own Valentine!
Find out more about Queer Mystery Anthologies at queermysterybooks.com.
---
| | |
| --- | --- |
| On Kindle Unlimited: | No |
| Ebook Publication Date: | February 1, 2022 |
| Word Count: | 125K |
---
About The Series: Anthologies
These anthologies are collections of short stories from an array of authors.
One of my stories is included in each anthology.
In some instances, I've also been the editor as well.
---