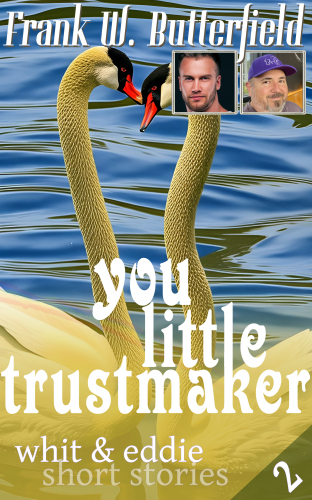 Preview
ebook
You Little Trustmaker
Whit and Eddie have known each other for something like 8 months and, out of left field, find themselves in the third day of a brand-new life as incidental billionaires!
That means a lot of new pressure and lots of things to be managed and handled and dealt with as best they can.
First on the agenda: meet with their fellow football team owners. Whit is a retired player so that should be easy enough, right? Wrong!
After the meeting is finally over, a mistaken assumption leads to feelings of betrayal and all that jazz.
Will their new-found relationship survive the pressure of their new-found wealth?
With some ghostly help, it just might...
* * *
This is a novella featuring themes of hurt and love along with elements out of time and runs to about 29K words.
---
---
---
About The Series: Whit & Eddie Short Stories
Welcome to the world of Whit & Eddie!
What happens when a retired football player falls in love with a chubby bear guy and they do it way too fast?
These are the short stories that supplement the novels in The Romantical Adventures of Whit & Eddie.
If you want quick reads that are light and fluffy, you've found the spot!
---