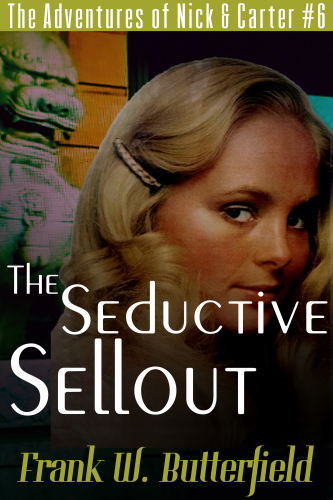 Preview
ebook
The Seductive Sellout
Thursday, January 21, 1971
Nick and Carter are flying to Hong Kong aboard their private 707 jetliner.
It's been 16 years since their last trip there.
The last couple of weeks have been a whirlwind of activity as they've identified a major drug pusher and found body after body along the way.
After all the dust settled, they now know exactly who the killer is.
With major governments blatantly refusing to do anything, it's up to Nick and Carter and their folks at WilliamsJones to take care of this particular problem.
But, when the time comes and a decision has to be made, it's really up to Nick.
And, until the very end, he's still not sure.
Is this who they are?
Do they eliminate problems and walk away with blood on their hands?
Or do they let someone else do all the dirty work?
Find out in The Seductive Sellout, the final book in this thrilling trilogy of intrigue, murder, and, in the end, redemption.
* * *
This is the third and final book in a trilogy beginning with The Sordid Socialite and The Seductive Sellout.
It's 1971, the world is changing fast, and the upper crust of San Francisco (not to mention New York and elsewhere) still isn't quite sure what to make of things. So, they're pushing their way into the world of the radicals and, as a result, are inventing the radical chic. This three-book story is about what that might have looked like in the Nick & Carter Universe. Our two heroes, after all, were radical long before it was chic!
---
| | |
| --- | --- |
| Word Count: | 68K |
| Ebook Publication Date: | July 17, 2022 |
| B/E: | 9006/179 |
---
---
About The Series: The Adventures of Nick & Carter
Nick Williams is out of the private detective business. He still owns a building full of private dicks, but he's had enough of dead bodies and the like.
So, while Carter Jones, his tall, muscled ex-firefighter of a husband, continues to publish books, Nick is out and about, looking for new and fun ways to get in trouble!
Of course, just because he may (or may not) have surrendered his license doesn't mean the dead bodies don't find him, from time to time...
---