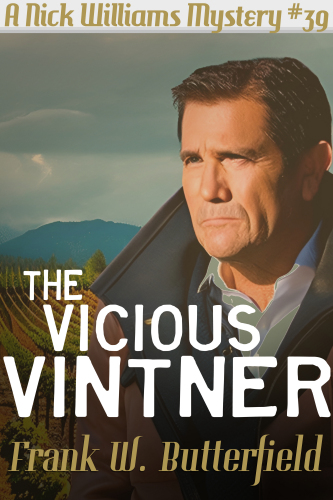 Preview
ebook
paperback
The Vicious Vintner
Sunday, August 6, 1972
It's a warm summer's day up in Sonoma and Nick and Carter are in the Cougar and on their way to lunch at a local winery.
Merka Wines has been one of the big suppliers for Hopkins Hotels for quite some time.
But Nick has never met old Paul Merka and his family and is looking forward to finally getting a chance to do so.
After a delicious four-course meal, Paul takes Nick and Carter out for a walk through the vineyards.
Before they get very far, though, they stumble across a dead body.
It doesn't take long before the family circles the wagons and attempts to prevent Nick from doing what he should as a licensed private investigator.
And that's only the beginning of what turns out to be quite a tragic tale.
Will Nick and Carter be able to stop the tragedy from spreading before everything is lost?
Read the mystery of The Vicious Vintner and find out!
* * *
Some mysteries can't be solved in just a few days or weeks or months, even.
This epic tale takes us from California to France to Chile and back again. Spanning a lot of history from 1972 through to 1983, we make several stops along the way.
Join Nick and Carter and all the gang in a tale of murder and wine, family and betrayal, and how secrets can destroy the thing they're designed to protect.
---
| | |
| --- | --- |
| On Kindle Unlimited: | No |
| Ebook Publication Date: | May 29, 2023 |
| Word Count: | 109K |
| Paperback Publication Date: | May 31, 2023 |
| Paperback Page Count: | 506 |
---
---
About The Series: A Nick Williams Mystery
In 1953, the richest homosexual in San Francisco is a private investigator.
Nick Williams lives in a modest bungalow with his fireman husband, a sweet fellow from Georgia by the name of Carter Jones.
Nick's gem of a secretary, Marnie Wilson, is worried that Nick isn't working enough. She knits a lot.
Jeffrey Klein, Esquire, is Nick's friend and lawyer. He represents the guys and gals who get caught in police raids in the Tenderloin.
Lt. Mike Robertson is Nick's first love and best friend. He's a good guy who's one hell of a cop.
The Unexpected Heiress is where their stories begin. Read along and fall in love with the City where cable cars climb halfway to the stars.
Long before the Summer of Love, pride parades down Market Street, and the fight for marriage equality, San Francisco was all about the Red Scare, F.B.I. investigations, yellow journalism run amok, and the ladies who play mahjong over tea.
---