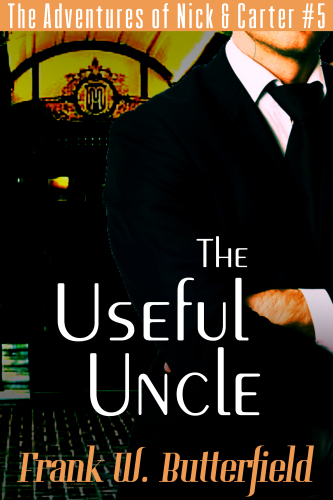 Preview
ebook
The Useful Uncle
Friday, January 15, 1971
Nick has just met his mother's side of the family, including a distant cousin who's a sophomore at Cal over in Berkeley.
And he's done so in time to realize the girl is trouble in more ways than one.
Meanwhile, having discovered that a form of heroin is being passed around San Francisco's social set, Nick and Carter are now attempting to track down whoever is behind the distribution of the drug.
Their pursuit leads them to Lake Tahoe for a curious run around the Nevada side of the lake, going from casino to casino.
Later, they make it to the literal top of the Mark Hopkins Hotel where they find a grisly scene of murder and mayhem.
Once all the clues are sorted out, they're sure they know who is behind everything and why. Or mostly why.
But will Nick and Carter be too late to stop the killing before another dead body is added to the pile?
Read The Useful Uncle and find out!
* * *
This is the second book in a trilogy beginning with The Sordid Socialite and ending with The Seductive Sellout.
It's 1971, the world is changing fast, and the upper crust of San Francisco (not to mention New York and elsewhere) still isn't quite sure what to make of things. So, they're pushing their way into the world of the radicals and, as a result, are inventing the radical chic. This three-book story is about what that might have looked like in the Nick & Carter Universe. Our two heroes, after all, were radical long before it was chic!
---
| | |
| --- | --- |
| Word Count: | 77K |
| Ebook Publication Date: | July 4, 2022 |
| B/E: | 9005/178 |
---
---
About The Series: The Adventures of Nick & Carter
Nick Williams is out of the private detective business. He still owns a building full of private dicks, but he's had enough of dead bodies and the like.
So, while Carter Jones, his tall, muscled ex-firefighter of a husband, continues to publish books, Nick is out and about, looking for new and fun ways to get in trouble!
Of course, just because he may (or may not) have surrendered his license doesn't mean the dead bodies don't find him, from time to time...
---