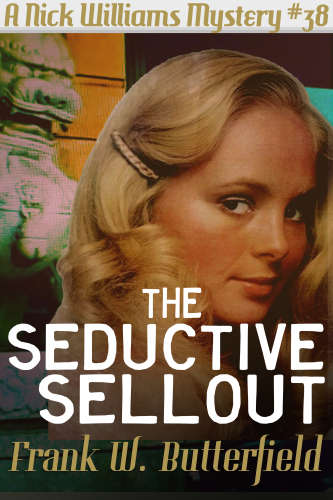 Preview
ebook
paperback
The Seductive Sellout
Thursday, January 21, 1971
Nick and Carter are flying to Hong Kong aboard their private 707 jetliner.
It's been 16 years since their last trip there.
The last couple of weeks have been a whirlwind of activity as they've identified a major drug pusher and found body after body along the way.
After all the dust settled, they now know exactly who the killer is.
With major governments blatantly refusing to do anything, it's up to Nick and Carter and their folks at WilliamsJones to take care of this particular problem.
But, when the time comes and a decision has to be made, it's really up to Nick.
And, until the very end, he's still not sure.
Is this who they are?
Do they eliminate problems and walk away with blood on their hands?
Or do they let someone else do all the dirty work?
Find out in The Seductive Sellout, the final book in this thrilling trilogy of intrigue, murder, and, in the end, redemption.
* * *
This is the third and final book in a trilogy beginning with The Sordid Socialite and The Seductive Sellout.
It's 1971, the world is changing fast, and the upper crust of San Francisco (not to mention New York and elsewhere) still isn't quite sure what to make of things. So, they're pushing their way into the world of the radicals and, as a result, are inventing the radical chic. This three-book story is about what that might have looked like in the Nick & Carter Universe. Our two heroes, after all, were radical long before it was chic!
---
| | |
| --- | --- |
| On Kindle Unlimited: | No |
| Ebook Publication Date: | July 17, 2022 |
| Word Count: | 68K |
---
---
About The Series: A Nick Williams Mystery
In 1953, the richest homosexual in San Francisco is a private investigator.
Nick Williams lives in a modest bungalow with his fireman husband, a sweet fellow from Georgia by the name of Carter Jones.
Nick's gem of a secretary, Marnie Wilson, is worried that Nick isn't working enough. She knits a lot.
Jeffrey Klein, Esquire, is Nick's friend and lawyer. He represents the guys and gals who get caught in police raids in the Tenderloin.
Lt. Mike Robertson is Nick's first love and best friend. He's a good guy who's one hell of a cop.
The Unexpected Heiress is where their stories begin. Read along and fall in love with the City where cable cars climb halfway to the stars.
Long before the Summer of Love, pride parades down Market Street, and the fight for marriage equality, San Francisco was all about the Red Scare, F.B.I. investigations, yellow journalism run amok, and the ladies who play mahjong over tea.
---