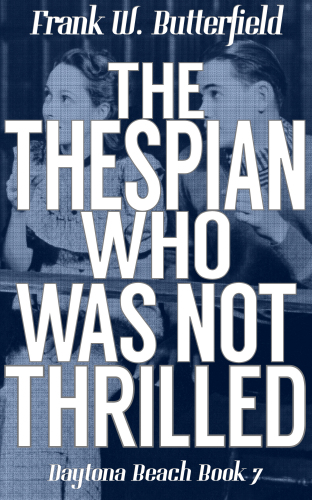 Preview
ebook
paperback
The Thespian Who Was Not Thrilled
In Daytona Beach, the final Friday of October 1948 has arrived. The month is ending on a blustery and soggy note.
Marveen's husband and her mother are both appearing in the Daytona Beach Little Theatre's exclusive production of Americaville, a futuristic reworking of the Broadway sensation, Our Town.
Friends and family, alike, have been beseeched by the troupe of devoted players to come out to their new theater on the grounds of the hospital at the edge of town to watch a dress rehearsal.
Because of the distance and the stormy weather, only Marveen shows up to cheer on her husband and her mother and their fellow thespians.
But, oddly enough, Ronnie Grisham is with her as is Tom Jarrell. Ronnie is there on a case, of all things. Tom is there because where Ronnie goes, he follows when he can. That's what happens when two men are in love with each other in the deep and abiding way they are.
The performance starts off a little rocky. That's what dress rehearsals are for, after all.
But just when things seem to be going more smoothly, the storm knocks out the power and a shot is fired in the dark.
When the lights come back on, there's a dead body on the stage and that's not part of the script!
Tom and Ronnie are invited up on the stage to see if they can figure out who the killer was.
But will they be able to unmask the murderous member of the cast before that unknown person is able to strike again?
---
| | |
| --- | --- |
| On Kindle Unlimited: | No |
| Ebook Publication Date: | October 17, 2022 |
| Word Count: | 23K |
---
---
About The Series: Daytona Beach Books
Welcome to a gay twist on Perry Mason! Set in the sultry south and by the beach, the Daytona Beach series of novels are about Tom Jarrell, an attorney who's just starting his own private practice, and Ronnie Grisham, Tom's private eye, long-term friend, and new-found lover.
These stories begin with Tom and Ronnie finding each other after a devastating loss and continue as the two men bring together a kind of family that neither of them could have ever imagined having.
Come take a stroll along the World's Most Famous Beach right after the Second World War. Truman is president, the men are home from Europe and the Pacific, and the Red Scare is just getting started.
It's a time and a place that no longer exists.
Take a dive in and see if you might wanna stay for a while.
---