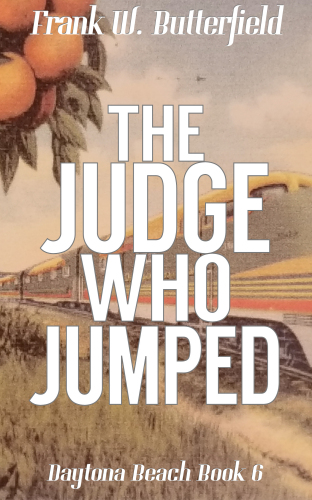 Preview
ebook
paperback
The Judge Who Jumped
Judge Zimmer was exiled from Daytona Beach in 1936. On his way back into town, he fell from the train. Was he pushed or did he jump? It's up to Ronnie to find out the truth.
---
It's a warm and pleasant Tuesday morning in Daytona Beach on the first day of June in 1948.
Tom, Ronnie, and Minnie are at work while Marveen and Claud are away, taking their vacations.
While reading his favorite pulp novel, Ronnie gets a call from a client who won't give her name.
She tells him where to pick up instructions (along with a nice advance fee) and wait for further contact.
When Ronnie gets the packet, he's surprised to discover what it's all about.
It seems that a retired circuit judge by the name of Clancy Xavier Zimmer has died overnight.
And his death may not have be an accident.
Either he jumped or was pushed from the northbound Havana Special just inside the Daytona Beach city limits.
Spurred by the judge's checkered past and a fee he can't turn down, Ronnie Grisham dives into the mysterious death in an attempt to discover what really happened on the speeding train.
It's quite possible that Judge Zimmer may be the first victim of a vindictive killer but not the last.
Will Ronnie, along with Tom and Minnie, be able to unmask the killer before it's too late?
Read the thrilling tale of The Judge Who Jumped and find out!
---
| | |
| --- | --- |
| On Kindle Unlimited: | No |
| Ebook Publication Date: | November 22, 2021 |
| Word Count: | 67K |
| Paperback Publication Date: | December 7, 2021 |
| Paperback Page Count: | 308 |
---
---
About The Series: Daytona Beach Books
Welcome to a gay twist on Perry Mason! Set in the sultry south and by the beach, the Daytona Beach series of novels are about Tom Jarrell, an attorney who's just starting his own private practice, and Ronnie Grisham, Tom's private eye, long-term friend, and new-found lover.
These stories begin with Tom and Ronnie finding each other after a devastating loss and continue as the two men bring together a kind of family that neither of them could have ever imagined having.
Come take a stroll along the World's Most Famous Beach right after the Second World War. Truman is president, the men are home from Europe and the Pacific, and the Red Scare is just getting started.
It's a time and a place that no longer exists.
Take a dive in and see if you might wanna stay for a while.
---