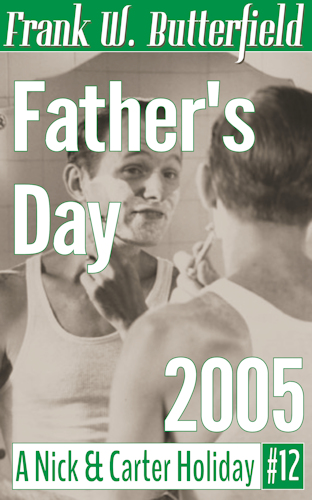 Preview
ebook
Father's Day, 2005
Sunday, June 19, 2005
It's Father's Day and Nick Williams is a little sore and a little hungover from attending Mayor Jerry Brown's wedding in Oakland the day before with his ex-fireman of a husband, Carter Jones.
At the age of 82, who wouldn't be?
They're having breakfast later that morning with the two kids who've become like sons over the past couple of years.
After that, it's lunch at the Top of the Mark with even more friends.
Nick is looking forward to another big day.
And, given the holiday, it's hardly surprising when more than one father shows up.
---
| | |
| --- | --- |
| On Kindle Unlimited: | No |
| Ebook Publication Date: | June 11, 2020 |
| Word Count: | 9K |
---
---
About The Series: A Nick & Carter Holiday
Welcome to a year of holidays with Nick Williams and Carter Jones!
This is a series of short stories with each centered around a specific holiday.
From New Year's Day to Boxing Day, each story stands on its own and might occur in any year from the early 1920s to the first decade of the 21st Century.
---