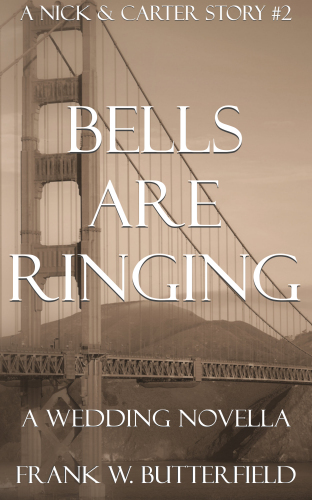 Preview
ebook
paperback
Bells Are Ringing: A Wedding Novella
You're invited to the wedding of 1954!
Dr. Parnell Robert Williams, M.D., invites you to attend the ceremony at Grace Cathedral on Nob Hill at 2 p.m. on Saturday, the 17th of April.
There he will wed Leticia Rose Wilson and she will be his beloved bride.
Or maybe not...
Comes Thursday, the 8th, and with only nine days to go, Lettie (the bride-to-be) is having wedding jitters.
She begs her soon-to-be husband to skip all the pomp and circumstance and elope to Las Vegas.
With the church cancelled and the reception at the Pacific Union Club called off—it looks like the nuptials will be a quickie at the Western Stars Wedding Chapel on Fremont Street in downtown Vegas.
Unless Lettie changes her mind...
Which she does...
Can Nick, Carter, and Marnie pull together a wedding in just three days?
They just might be able to do so with some help from the private dicks at Consolidated Security, a pair of lady couples from Eureka Valley, and a couple of female illusionists from the Tenderloin.
Maybe the social event of the season just might turn out to be a success after all...
Fingers crossed!
---
| | |
| --- | --- |
| On Kindle Unlimited: | No |
| Ebook Publication Date: | February 6, 2020 |
| Ebook Publication Date: | February 7, 2020 |
| Word Count: | 26K |
---
---
About The Series: A Nick & Carter Story
These are stories about Nick and Carter.
---