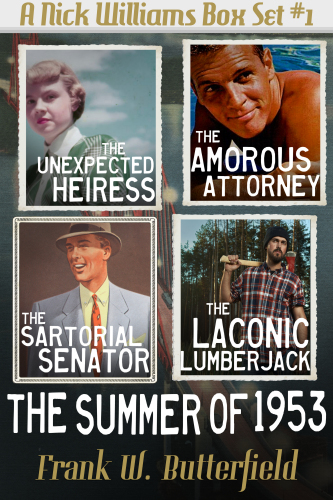 Preview
ebook
The Summer of 1953
This is the first of eight box sets covering the complete Nick Williams Mystery series of novels!
The four complete books in this set include:
The Unexpected Heiress
May 11, 1953
Nick Williams, a private investigator in San Francisco, receives a late-night call that his sister is dying following a freak car accident.
After rushing over to the hospital with Carter Jones, a fireman and the love of his life, he arrives just in time to say good-bye to the last member of his Nob Hill family he could stand to be around.
Once the cops get a chance to take a look at the car, it becomes obvious this was no accident.
It was murder.
And, with that, Nick is hot on the trail to bring his sister's killer to justice. And it's a trail that reveals plenty of surprising secrets about his sister and their family.
Will Nick be able to find the murderer and stop them before they can strike again?
Find out in the fast-paced adventures of the case of The Unexpected Heiress!
---
The Amorous Attorney
Monday, May 18, 1953
Jeffrey Klein's love affair is heating up and Nick has to chase him down because, frankly, he needs a lawyer to set up his new business.
Oh, and Eddie Mannix at Metro is on the warpath and being a general pain in Nick's ass.
After finding Jeffrey shacked up in a compromising position, Nick has to deal with his own personal mess when it comes to saying goodbye to an old flame.
After receiving a telegram asking for help, Nick and Carter end up flying south of the border, down Mexico way.
When they get there, they find a corrupt politician, a flirtatious police captain, and a woman terrified of an uncertain future and what it holds for her.
---
The Sartorial Senator
Friday, May 29, 1953
Nick and Carter just want to go home to San Francisco after their adventures in Mexico.
But, before they can sail into the Golden Gate, Nick receives a subpoena from America's most infamous witch hunter in Washington, D.C.
Meanwhile, an old schoolmate from Carter's childhood shows up out of nowhere and revives painful memories.
Once they get to the nation's capital, they are plunged into helping yet another flirtatious police detective solve a curious murder that leads to some very dark places.
In the end, Nick and Carter set a trap to catch the killer and get much more than they bargained for.
---
The Laconic Lumberjack
Thursday, July 16, 1953
It's just another Thursday morning in July of 1953 when the doorbell rings at 137 Hartford Street and it's bad news.
Carter's father has been murdered in Georgia and the local sheriff has no intention of finding out who really did it.
So, Nick and Carter borrow the first plane that Marnie, Nick's amazing secretary, can find for them and they zoom off back into the past to see if they can uncover the truth of what really happened before the wrong man is convicted. And, knowing the lay of the land under the moss-covered oaks, Carter is pretty sure that the color of a man's skin will figure heavily in who takes the fall.
In The Laconic Lumberjack, the best Nick can do is stand by Carter's side as he confronts an awful past, uncovers some surprising secrets, and deals with the unsavory reality of small-town hypocrisy.
In the end, Nick and Carter discover more about themselves than they ever expected to find.
---
| | |
| --- | --- |
| On Kindle Unlimited: | No |
| Ebook Publication Date: | August 24, 2020 |
| Ebook Publication Date: | August 15, 2021 |
| Word Count: | 229K |
---
---
About The Series: A Nick Williams Box Set
Welcome to the world of Nick Williams!
These eight box sets include the complete Nick Williams Mysteries.
These thirty-two novels, ranging from 1953 to 1967, feature mysteries filled with suspense and intrigue while giving us insights into the world as it was and the world as it could have been.
---