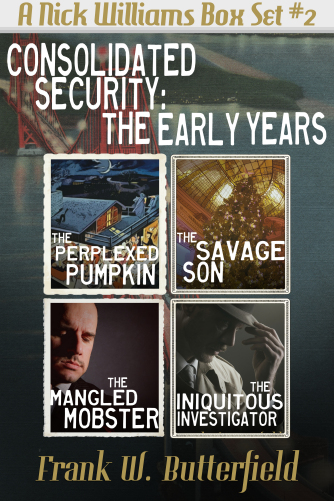 Preview
ebook
Consolidated Security: The Early Years
This is the second of eight box sets covering the complete Nick Williams Mystery series of novels!
The four complete books in this set include:
The Perplexed Pumpkin
Friday, October 23, 1953
"Nick! You and Carter have to throw a party for Halloween this year! It's on a Saturday, after all!"
Grudgingly, Nick agrees to be the less-than-amiable host to what turns out to be a bizarre event that will long be remembered by everyone who attends...
When the party is obviously going to be much bigger than Nick & Carter expected, they begin to realize something mysterious is brewing under their very noses. Down in their own basement, as a matter of fact.
A two-timing girlfriend, a locked door, and an unexpected visit from the F.B.I. are just some of the clues that begin to add up to a particularly perplexing Halloween.
So, come on you ghosts and ghouls, witches and warlocks, put on your Halloween best for you have been invited to a memorable evening at 137 Hartford Street in San Francisco on Saturday, October 31, 1953.
Come on in and join the party.
If you dare...
The Savage Son
Tuesday, December 15, 1953
Ivan Kopek is missing and his parents desperately want Nick's help. Ike, as he's known to his friends, is quickly found once Nick, Carter, and their pals are on the case. Unfortunately, Ike's in jail for a murder he didn't commit. And it was only because he didn't get the chance to do it himself.
Meanwhile, it's almost Christmas. Nick's least favorite time of the year.
But, Carter wants a Christmas tree and Dr. Parnell Williams, Nick's evil bastard of a father, has summoned them both to the mansion on Sacramento Street for Christmas day at 12 noon. And they're not to be late.
In the end, Christmas brings Nick & Carter a number of unexpected and life-changing packages, both big and small.
The Mangled Mobster
Wednesday, June 16, 1954
Construction on the new twenty-story building for Consolidated Security at the corner of Market and Montgomery is ahead of schedule, thanks to Henry and Pam. Nick is looking forward to his office on the nineteenth floor. The twentieth floor is designed to be a restaurant. He's hoping for French or Italian. Carter wants something with less garlic.
But then an unknown man falls from the top of the steel skeleton and things grind to a halt.
When Henry gets a late-night call warning him and Nick to not investigate, Mike takes action to protect them both but Nick gets a late-night visit from some wiseguys and it doesn't end well... for them.
That's just the beginning of a tale of mobsters, refugees, and The Old Poodle Dog that twists and turns its way to a thrilling conclusion.
In the end, it's an adventure for Nick, Carter, and the whole gang in the City we love the most: Baghdad By The Bay.
The Iniquitous Investigator
Monday, July 5, 1954
Mildred's Diner just isn't the welcoming place it once was. Looking forward to a nice breakfast, including that chewy bacon that Nick and Carter both love, they're asked to leave. Mildred has gone back to Texas and word is they "ain't welcome."
But it's a sunny July day, so Nick puts the top down on the Roadmaster and they head across the Golden Gate to Sausalito for eggs, bacon, toast, and coffee. But it seems like trouble follows them along the way and, before they know it, Nick and Carter are sitting in jail for vagrancy.
After making bail, the whole team is on the job figuring what the heck is going on in sleepy Sausalito while also chasing down the missing Mildred, who may have been kidnapped or worse!
---
| | |
| --- | --- |
| On Kindle Unlimited: | No |
| Ebook Publication Date: | August 10, 2021 |
| Word Count: | 204K |
---
---
About The Series: A Nick Williams Box Set
Welcome to the world of Nick Williams!
These eight box sets include the complete Nick Williams Mysteries.
These thirty-two novels, ranging from 1953 to 1967, feature mysteries filled with suspense and intrigue while giving us insights into the world as it was and the world as it could have been.
---