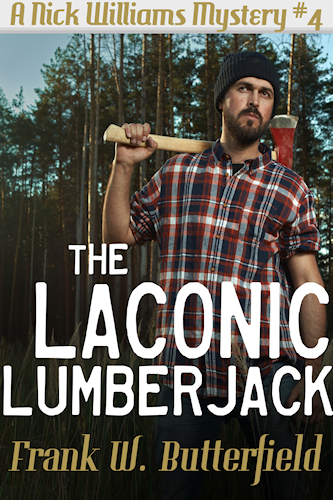 Preview
ebook
paperback
The Laconic Lumberjack
Thursday, July 16, 1953
It's just another Thursday morning in July of 1953 when the doorbell rings at 137 Hartford Street and it's bad news.
Carter's father has been murdered in Georgia and the local sheriff has no intention of finding out who really did it.
So, Nick and Carter borrow the first plane that Marnie, Nick's amazing secretary, can find for them and they zoom off back into the past to see if they can uncover the truth of what really happened before the wrong man is convicted. And, knowing the lay of the land under the moss-covered oaks, Carter is pretty sure that the color of a man's skin will figure heavily in who takes the fall.
In The Laconic Lumberjack, the best Nick can do is stand by Carter's side as he confronts an awful past, uncovers some surprising secrets, and deals with the unsavory reality of small-town hypocrisy.
In the end, Nick and Carter discover more about themselves than they ever expected to find.
---
| | |
| --- | --- |
| On Kindle Unlimited: | No |
| Ebook Publication Date: | October 29, 2016 |
| Word Count: | 67K |
| Paperback Publication Date: | January 24, 2017 |
| Paperback Page Count: | 300 |
---
---
About The Series: A Nick Williams Mystery
In 1953, the richest homosexual in San Francisco is a private investigator.
Nick Williams lives in a modest bungalow with his fireman husband, a sweet fellow from Georgia by the name of Carter Jones.
Nick's gem of a secretary, Marnie Wilson, is worried that Nick isn't working enough. She knits a lot.
Jeffrey Klein, Esquire, is Nick's friend and lawyer. He represents the guys and gals who get caught in police raids in the Tenderloin.
Lt. Mike Robertson is Nick's first love and best friend. He's a good guy who's one hell of a cop.
The Unexpected Heiress is where their stories begin. Read along and fall in love with the City where cable cars climb halfway to the stars.
Long before the Summer of Love, pride parades down Market Street, and the fight for marriage equality, San Francisco was all about the Red Scare, F.B.I. investigations, yellow journalism run amok, and the ladies who play mahjong over tea.
---