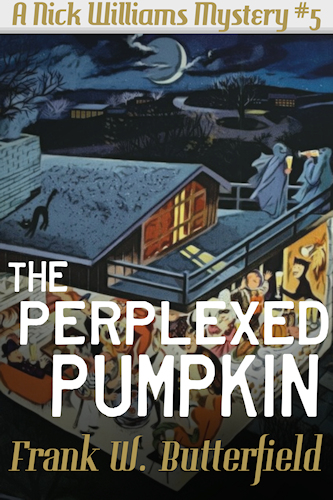 Preview
ebook
paperback
The Perplexed Pumpkin
Friday, October 23, 1953
"Nick! You and Carter have to throw a party for Halloween this year! It's on a Saturday, after all!"
Grudgingly, Nick agrees to be the less-than-amiable host to what turns out to be a bizarre event that will long be remembered by everyone who attends...
When the party is obviously going to be much bigger than Nick & Carter expected, they begin to realize something mysterious is brewing under their very noses. Down in their own basement, as a matter of fact.
A two-timing girlfriend, a locked door, and an unexpected visit from the F.B.I. are just some of the clues that begin to add up to a particularly perplexing Halloween.
So, come on you ghosts and ghouls, witches and warlocks, put on your Halloween best for you have been invited to a memorable evening at 137 Hartford Street in San Francisco on Saturday, October 31, 1953.
Come on in and join the party.
If you dare...
---
| | |
| --- | --- |
| On Kindle Unlimited: | No |
| Ebook Publication Date: | October 30, 2016 |
| Word Count: | 13K |
| Paperback Publication Date: | January 24, 2017 |
| Paperback Page Count: | 78 |
---
---
About The Series: A Nick Williams Mystery
In 1953, the richest homosexual in San Francisco is a private investigator.
Nick Williams lives in a modest bungalow with his fireman husband, a sweet fellow from Georgia by the name of Carter Jones.
Nick's gem of a secretary, Marnie Wilson, is worried that Nick isn't working enough. She knits a lot.
Jeffrey Klein, Esquire, is Nick's friend and lawyer. He represents the guys and gals who get caught in police raids in the Tenderloin.
Lt. Mike Robertson is Nick's first love and best friend. He's a good guy who's one hell of a cop.
The Unexpected Heiress is where their stories begin. Read along and fall in love with the City where cable cars climb halfway to the stars.
Long before the Summer of Love, pride parades down Market Street, and the fight for marriage equality, San Francisco was all about the Red Scare, F.B.I. investigations, yellow journalism run amok, and the ladies who play mahjong over tea.
---