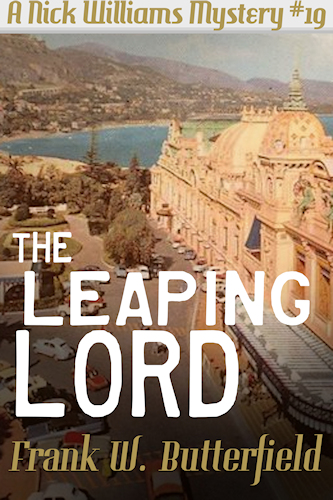 Preview
ebook
paperback
The Leaping Lord
Tuesday, August 13, 1957
Life is good. Nick and Carter are living on the French Riviera, having breakfast by the pool every morning with a view of the Mediterranean, and living a quiet life after a busy month. The grand re-opening of Nick's latest acquisition, l'Hôtel Beau Rivage, the hottest spot in Nice, has gone off without a hitch. And, best of all, Nick has recovered nicely after taking a bullet in his shoulder.
But then, on the same day, they have not one, but two unexpected encounters with the aristocracy.
A day of driving down the coast leads to an amiable but unusual request from the former Grace Kelly, now Her Serene Highness The Princess of Monaco. Nick is suspicious of the favor she's asked but he's also smitten with the gorgeous blonde who lives in the Prince's Palace just a few miles down the coast. Carter, of course, can't help but tease Nick about losing his heart to movie-star royalty.
Later that evening, Nick and Carter are invited to an impromptu dinner with Her Grace, the Duchess of Boston. She happens to be the mother of the British spy who has been helping Nick and Carter stay out of trouble for the past couple of years. Her son, Lord Gerald Whitcombe, left London for Nice back in July but has since disappeared. The duchess is convinced that the two of them are the only ones who can find him.
What follows is a race against time that leads Nick and Carter back to Paris where they find that things are not exactly how they left them.
---
| | |
| --- | --- |
| On Kindle Unlimited: | No |
| Ebook Publication Date: | February 25, 2018 |
| Word Count: | 66K |
| Paperback Publication Date: | March 8, 2018 |
| Paperback Page Count: | 288 |
---
---
About The Series: A Nick Williams Mystery
In 1953, the richest homosexual in San Francisco is a private investigator.
Nick Williams lives in a modest bungalow with his fireman husband, a sweet fellow from Georgia by the name of Carter Jones.
Nick's gem of a secretary, Marnie Wilson, is worried that Nick isn't working enough. She knits a lot.
Jeffrey Klein, Esquire, is Nick's friend and lawyer. He represents the guys and gals who get caught in police raids in the Tenderloin.
Lt. Mike Robertson is Nick's first love and best friend. He's a good guy who's one hell of a cop.
The Unexpected Heiress is where their stories begin. Read along and fall in love with the City where cable cars climb halfway to the stars.
Long before the Summer of Love, pride parades down Market Street, and the fight for marriage equality, San Francisco was all about the Red Scare, F.B.I. investigations, yellow journalism run amok, and the ladies who play mahjong over tea.
---