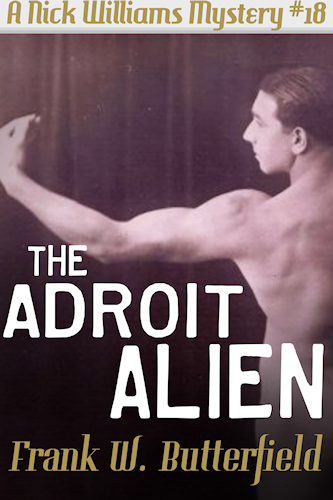 Preview
ebook
paperback
The Adroit Alien
Monday, January 2, 1956
Nick and Carter have arrived safely in Paris and were even greeted at the airport by a minor government official and a small detachment of the famous Republican Guard.
After taking a week to recover from their Christmas adventures in Vermont, they're ready to move into their new house over in the 4th Arrondissement.
It takes three cabs to get the whole gang over there from their hotel and, as they stand on the sidewalk outside, none of them can quite believe what they find: a crumbling building, a trash-filled courtyard, several broken windows, and, as Nick tentatively pushes the front door open, the stench of a rotting corpse.
The police know that none of them could possibly have committed the crime but what about the mysterious Madame Marika, who has suddenly disappeared? Is she back behind the Iron Curtain? Or has she too been murdered?
The entire household gets involved in solving the mystery, dashing around the city that is their new home, and discovering, in the end, the bonds of love and friendship they have brought with them from San Francisco, across the Atlantic Ocean, and to La Ville-Lumière—Paris: The City of Light.
And that's only the beginning...
---
| | |
| --- | --- |
| On Kindle Unlimited: | No |
| Ebook Publication Date: | January 22, 2018 |
| Word Count: | 121K |
| Paperback Publication Date: | January 26, 2018 |
| Paperback Page Count: | 526 |
---
---
About The Series: A Nick Williams Mystery
In 1953, the richest homosexual in San Francisco is a private investigator.
Nick Williams lives in a modest bungalow with his fireman husband, a sweet fellow from Georgia by the name of Carter Jones.
Nick's gem of a secretary, Marnie Wilson, is worried that Nick isn't working enough. She knits a lot.
Jeffrey Klein, Esquire, is Nick's friend and lawyer. He represents the guys and gals who get caught in police raids in the Tenderloin.
Lt. Mike Robertson is Nick's first love and best friend. He's a good guy who's one hell of a cop.
The Unexpected Heiress is where their stories begin. Read along and fall in love with the City where cable cars climb halfway to the stars.
Long before the Summer of Love, pride parades down Market Street, and the fight for marriage equality, San Francisco was all about the Red Scare, F.B.I. investigations, yellow journalism run amok, and the ladies who play mahjong over tea.
---