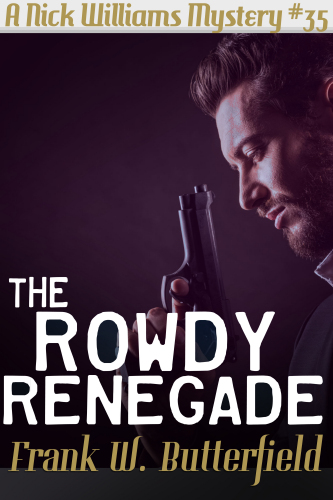 Preview
ebook
paperback
The Rowdy Renegade
Tuesday, February 3, 1970
Production of Monumental's newest TV show, Touch of Rouge, is on the rocks.
The leading man broke his leg...
The show's writer is quitting...
The press is having a field day with the latest changes in the storyline...
And no one quite knows what to make of Nick Williams, the show's newly self-appointed Executive Producer.
Neither does Nick, for that matter.
Meanwhile, he and Carter are trying to live their lives as bodyguards are following them wherever they go.
A group of rogue intelligence agents are out to get them for no good reason anyone can come up with other than the obvious ones: Nick and Carter are too rich and too gay.
Is this the end of our heroes? Don't change that dial! Stay tuned for more of The Adventures of Nick & Carter in The Rowdy Renegade!
---
Playlist for this book:
---
| | |
| --- | --- |
| On Kindle Unlimited: | No |
| Ebook Publication Date: | October 25, 2021 |
| Word Count: | 122K |
---
---
About The Series: A Nick Williams Mystery
In 1953, the richest homosexual in San Francisco is a private investigator.
Nick Williams lives in a modest bungalow with his fireman husband, a sweet fellow from Georgia by the name of Carter Jones.
Nick's gem of a secretary, Marnie Wilson, is worried that Nick isn't working enough. She knits a lot.
Jeffrey Klein, Esquire, is Nick's friend and lawyer. He represents the guys and gals who get caught in police raids in the Tenderloin.
Lt. Mike Robertson is Nick's first love and best friend. He's a good guy who's one hell of a cop.
The Unexpected Heiress is where their stories begin. Read along and fall in love with the City where cable cars climb halfway to the stars.
Long before the Summer of Love, pride parades down Market Street, and the fight for marriage equality, San Francisco was all about the Red Scare, F.B.I. investigations, yellow journalism run amok, and the ladies who play mahjong over tea.
---