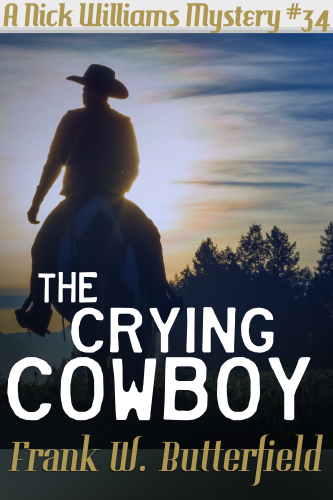 Preview
ebook
paperback
The Crying Cowboy
Sunday, January 25, 1970
Nick and Carter are home, at last, from nearly three years of roaming the world and are glad to be back in the City by the Bay.
It just so happens that their return coincides with the filming of Monumental's newest TV show at the Folsom Street studio.
Lola Dunbar, hot off Monumental's most successful series to date, is getting her own spin-off!
Everyone is excited about the second black actress to lead a cast on network TV, following Diahann Carroll's big hit on NBC as Julia.
Well... truth be told... not everyone is excited.
Lola's leading man is turning out to be a real handful, for one thing...
Potential sponsors are concerned about how the show will be received in the South...
And the network hasn't given the show a timeslot yet...
Nick, who really hates TV, is unexpectedly thrown into the role of managing a production that is threatening to spin out of control.
And that's just where things start in Nick and Carter's next adventure: The Crying Cowboy.
---
| | |
| --- | --- |
| On Kindle Unlimited: | No |
| Ebook Publication Date: | December 9, 2019 |
| Ebook Publication Date: | January 27, 2020 |
| Word Count: | 61K |
---
---
About The Series: A Nick Williams Mystery
In 1953, the richest homosexual in San Francisco is a private investigator.
Nick Williams lives in a modest bungalow with his fireman husband, a sweet fellow from Georgia by the name of Carter Jones.
Nick's gem of a secretary, Marnie Wilson, is worried that Nick isn't working enough. She knits a lot.
Jeffrey Klein, Esquire, is Nick's friend and lawyer. He represents the guys and gals who get caught in police raids in the Tenderloin.
Lt. Mike Robertson is Nick's first love and best friend. He's a good guy who's one hell of a cop.
The Unexpected Heiress is where their stories begin. Read along and fall in love with the City where cable cars climb halfway to the stars.
Long before the Summer of Love, pride parades down Market Street, and the fight for marriage equality, San Francisco was all about the Red Scare, F.B.I. investigations, yellow journalism run amok, and the ladies who play mahjong over tea.
---