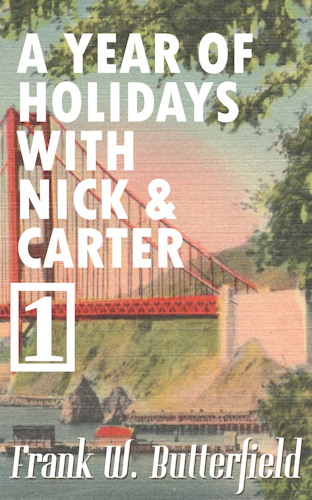 Preview
ebook
paperback
A Year of Holidays with Nick & Carter, Volume 1
Welcome to the first volume of A Year of Holidays with Nick & Carter!
This book includes six short stories previously published in stand-alone ebook format, all involving Nick Williams and Carter Jones along with their friends and family. Enjoy!
New Year's Day, 1979
Monday, January 1, 1979
Nick and Carter are in Dallas for the opening of the newest of their Hopkins Hotels!
Inside their new club - The Fourteenth Floor - the scene is sizzling!
The clock strikes midnight and Nick and Carter are dancing to Guy Lombardo just like they did when they first met.
But then one of the bartenders is seen running into the back in a frenzy.
And the General Manager of the hotel is found semi-conscious, bleeding from the head.
Will Nick discover what secrets might conspire to close the Hopkins Dallas and The Fourteenth Floor before either have a chance to fly?
Martin Luke King Jr., Day, 1986
Monday, January 20, 1986
It's the first holiday celebrating the life and work of Dr. Martin Luther King, Jr., and San Francisco is having a parade!
Nick and Carter will be marching with Mrs. Geneva Watkins, the last living member of the powerful group of women Nick once affectionately dubbed The Four Terrors.
She's 78 and has worked hard, in her particular way, to make this day happen.
But when the day starts off on a tragic note, will Nick and Carter be able to remember what the hard-won holiday is really for?
Valentine's Day, 1951
Tuesday, February 13, 1951
What does the man who can buy anything get the man who doesn't want anything?
That's the mystery Nick is trying to solve.
With the help of his new secretary, Marnie Wilson, Nick is hoping he can come up with the perfect gift that will let Carter know how much he really loves the big fireman.
Washington's Birthday, 1948
Monday, February 23, 1948
It's a holiday but Nick is feeling blue.
It's all because his best guy, Carter, is working hard at Station 3 on Post Street, protecting the City by the Bay from fires, large and small.
Maybe a bowl of navy bean soup at Gene Compton's Cafeteria and some friendly chatter with an old friend might just be the thing to cheer Nick up...
Mardi Gras, 1975
Tuesday, February 11, 1975
Nick and Carter are in New Orleans for their first trip to Mardi Gras!
When Nick first opens his eyes that morning, he realizes he has a big hangover and no memory of what happened the night before.
Over a breakfast of coffee and grease, Miss Wanna Man, a local drag queen in the French Quarter, swings by to give Nick the Tea and let him know to watch his back.
It's definitely an adventurous Fat Tuesday for Nick and Carter!
Laissez les bons temps rouler!
St. David's Day, 1848
Wednesday, March 1, 1848
It's the dark and early morning hours of St. David's Day and Griffith Williams, nestled and cozy next to his dear friend, Gwyn, is abruptly awakened by a man who calls out in a strange voice.
"Great-grandfather?"
Griffy is startled to see the shimmering form of a handsome man with bright and shining eyes. And they're a color of brown he's not seen before.
The face, however, is more than a little familiar. With a dimple in the chin, it brings to mind memories of his late father, his tad, David.
Is it evil or is it good which has brought forth this ghostly vision?
---
| | |
| --- | --- |
| On Kindle Unlimited: | No |
| Word Count: | 53K |
| Paperback Publication Date: | March 4, 2020 |
| Paperback Publication Date: | March 4, 2020 |
| Paperback Page Count: | 270 |
---
---
About The Series: A Year of Holidays with Nick & Carter
Welcome to a year of holidays with Nick Williams and Carter Jones!
This is a series of short stories with each centered around a specific holiday.
From New Year's Day to Boxing Day, each story stands on its own and might occur in any year from the early 1920s to the first decade of the 21st Century.
---