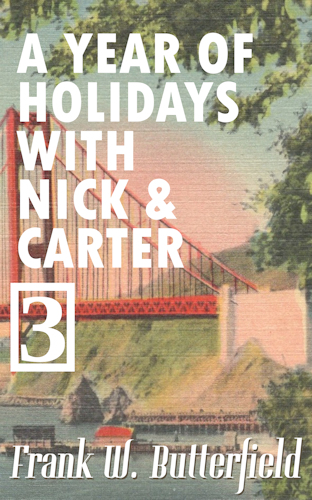 Preview
ebook
paperback
A Year of Holidays with Nick & Carter, Volume 3
Welcome to the third volume of A Year of Holidays with Nick & Carter!
This book includes nine short stories and novellas previously published in stand-alone ebook format, all involving Nick Williams and Carter Jones along with their friends and family.
---
Labor Day, 1960
Monday, September 5, 1960
It's Labor Day morning and Nick and Carter are flying into Detroit for a one-night stay at the Sheraton-Cadillac Hotel downtown.
Mob bosses, angry wives, and nymphomaniacs are just some of what crawl right out of the Danish modern woodwork in Detroit's newly renovated and up-to-date downtown hotel with the most uncomfortable furniture and ugliest color scheme Nick has ever seen.
---
Columbus Day, 1939
Thursday, October 12, 1939
It's Columbus Day and it seems like everyone is heading to the Golden Gate International Exposition on Treasure Island in San Francisco Bay!
There are only a few days left before the thrilling exhibitions, pavilions, restaurants, and rides close down and they may not open up again in 1940.
Nick Williams and Mike Robertson are heading over to Treasure Island to tour all the pavilions of the different states and the foreign lands.
Carter Jones and Henry Winters arrived in San Francisco from Georgia a couple of months ago and, only now, are finally able to make their way over to Treasure Island.
Who knows? Maybe their paths will cross 8 years before that wonderful enchanted beginning...
---
Halloween, 1970
Saturday, October 31, 1970
It's Halloween! Nick and Carter are heading down to San Luis Obispo where they're hosting a party for their favorite actress, Miss Lola Dunbar!
For reasons best known to himself, Nick insists Carter drive the Cougar down California Highway 1 instead of taking the short flight south in one of their private planes.
After a chance encounter with a group of amateur sleuths and a rock-and-roll band, Nick and Carter lead everyone inside a creepy mansion to uncover the secrets of a ghostly Confederate colonel, his lost bride-to-be, hidden passages, and more!
---
Veterans Day, 2006
Saturday, November 11, 2006
It's a misty, rainy Veterans Day in San Francisco.
Nick Williams (83, almost 84) and Carter Jones (86) are getting ready for their annual shindig at the Top of the Mark.
For the past few years, they've invited LGBT veterans to join them for lunch while the usual parade is happening on Market Street.
This year will turn out to be even more special than any of the ones before...
---
Thanksgiving, 1947
Thursday, November 27, 1947
It's Thanksgiving and Nick is cooking a veritable feast!
Nick and Carter have been dating for just over three months and it's their first holiday together.
It's also an opportunity for Nick to introduce Carter to all his friends.
What can go wrong when two new lovers bring their old flames to dinner and everyone gets a chance to meet?
More turkey, anyone?
---
Nick's Birthday, 1967
Wednesday, November 29, 1967
It's Nick's birthday and he's turning 45!
After quietly living on Kauai for several months, Nick is happy to be doing not much of anything apart from reading the mail shipped in weekly from San Francisco.
But after the adventures of the day roll in, like the rain, it might just be Nick's favorite birthday to date.
If he can get through it, that is...
Pearl Harbor Day, 1991
---
Saturday, December 7, 1991
It's the fiftieth anniversary of the attack on Pearl Harbor, an event that propelled the United States into the Second World War.
Over a pot roast dinner with all his nearest and dearest, Nick begins to tell his version of the events that happened that day fifty years ago.
Needless to say, it's definitely going to be a night to remember!
---
Christmas Day, 1994
Monday, December 26, 1994
It's Boxing Day and Nick and Carter are flying from Sydney to Pago Pago.
And, when they get to their destination, it will be Sunday, the 25th of December—Christmas Day—again after crossing the International Date Line.
On this second Christmas Day of 1994, they're going to finally fulfill the dying wish of an old friend, make some new friends, uncover a hidden secret or two, and finally solve a thorny problem they've had for the last few years.
---
Boxing Day, 1981
Saturday, December 26, 1981
It's Boxing Day and Nick and Carter are renting a sprawling 19th century house in the heart of Auckland, in New Zealand.
The sun has barely risen when Nick sits up in bed after hearing the sound of a woman screaming.
By the end of the day, some old ghosts will finally find peace and so do Nick and Carter.
---
| | |
| --- | --- |
| On Kindle Unlimited: | No |
| Ebook Publication Date: | January 4, 2021 |
| Word Count: | 119K |
---
---
About The Series: A Year of Holidays with Nick & Carter
Welcome to a year of holidays with Nick Williams and Carter Jones!
This is a series of short stories with each centered around a specific holiday.
From New Year's Day to Boxing Day, each story stands on its own and might occur in any year from the early 1920s to the first decade of the 21st Century.
---