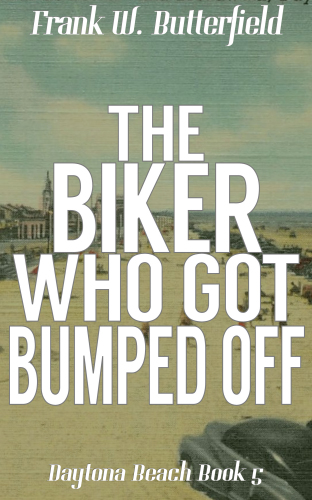 Preview
ebook
paperback
The Biker Who Got Bumped Off
It's murder by the beach. Buddy Kennedy claims he's innocent but the state wants to send him to the chair. Will Tom and Ronnie be able to protect their biker client from the ultimate slide out?
---
It's a rainy morning on Friday, the 12th of March in 1948, only two days before the big race on the beach down by Ponce Park.
The festivities surrounding 1948's Daytona 200 bike races are in full swing and the party is bigger, busier, and louder than anyone can ever remember.
Sadly, there are three deaths while the bikers are in town.
One is a rider who suffers an accident during the big party on Main Street.
Another is a spectator out at the races on the beach who is hit by a rider.
The third is stabbed during a late-night fight.
Tom Jarrell takes on the task of defending the man accused of committing the murder.
Ronnie Grisham hits the streets trying to find out what really happened.
There are a few snags, however...
No one's sure who the victim really is...
The defendant claims he's innocent...
The cops stand behind their open-and-shut case...
Will Tom save his client from the electric chair?
Will Ronnie find the real murderer before he can strike again?
Read the thrilling tale of The Biker Who Got Bumped Off and find out!
---
| | |
| --- | --- |
| On Kindle Unlimited: | No |
| Ebook Publication Date: | March 29, 2021 |
| Word Count: | 102K |
---
---
About The Series: Daytona Beach Books
Welcome to a gay twist on Perry Mason! Set in the sultry south and by the beach, the Daytona Beach series of novels are about Tom Jarrell, an attorney who's just starting his own private practice, and Ronnie Grisham, Tom's private eye, long-term friend, and new-found lover.
These stories begin with Tom and Ronnie finding each other after a devastating loss and continue as the two men bring together a kind of family that neither of them could have ever imagined having.
Come take a stroll along the World's Most Famous Beach right after the Second World War. Truman is president, the men are home from Europe and the Pacific, and the Red Scare is just getting started.
It's a time and a place that no longer exists.
Take a dive in and see if you might wanna stay for a while.
---