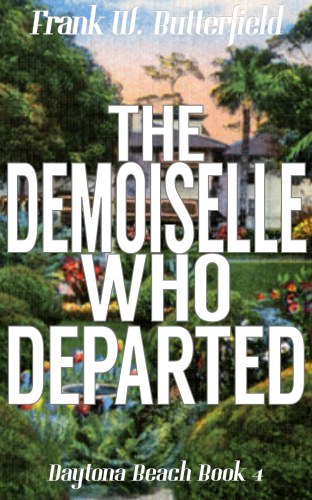 Preview
ebook
paperback
The Demoiselle Who Departed
Tuesday, the seventh of October, will be a night Marveen Dodge will long remember. That was when her beau, Officer Bill Gordon, popped the question while dancing at the Trocadero.
Is it true love? Marveen's mother has some thoughts on the matter but, then again, when doesn't she?
Meanwhile, come Wednesday, Tom Jarrell and Ronnie Grisham are back in their Beach Street office. They've just returned from their honeymoons in Miami Beach. The only thing is... their wives didn't return with them.
Local tongues will be wagging!
And then there's poor Miss van Woy, the upright and quite correct headmistress of The Casements Junior College up in Ormond Beach. She runs the exclusive school for girls housed in the old Rockefeller mansion.
It seems that one of her best pupils, Mademoiselle Jane Oliver, heiress of the famed Oliver Pickles fortune, is missing.
Miss van Woy really can't afford to have a drop of scandal attached to her school, so it's Tom and Ronnie to the rescue.
But will they find more than Miss van Woy can possibly tolerate?
---
| | |
| --- | --- |
| On Kindle Unlimited: | No |
| Ebook Publication Date: | April 1, 2019 |
| Word Count: | 92K |
| Paperback Page Count: | 384 |
---
---
About The Series: Daytona Beach Books
Welcome to a gay twist on Perry Mason! Set in the sultry south and by the beach, the Daytona Beach series of novels are about Tom Jarrell, an attorney who's just starting his own private practice, and Ronnie Grisham, Tom's private eye, long-term friend, and new-found lover.
These stories begin with Tom and Ronnie finding each other after a devastating loss and continue as the two men bring together a kind of family that neither of them could have ever imagined having.
Come take a stroll along the World's Most Famous Beach right after the Second World War. Truman is president, the men are home from Europe and the Pacific, and the Red Scare is just getting started.
It's a time and a place that no longer exists.
Take a dive in and see if you might wanna stay for a while.
---