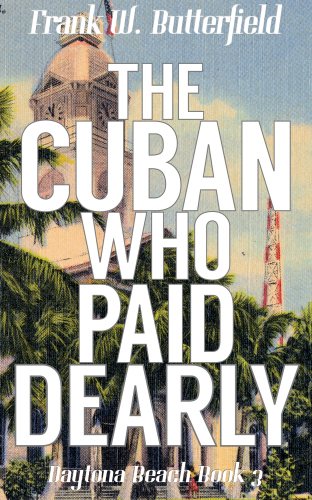 Preview
ebook
paperback
The Cuban Who Paid Dearly
It's Thursday morning, the 2nd of October in 1947, and Ronnie Grisham and his pal, Tom Jarrell, are now married... To women, of course...
And, for appearance's sake and to get a much-needed break from work, Ronnie figures they really should go on a honeymoon.
So, the two couples board the southbound Champion for Miami. It's all aboard for romance! But not in the way their fellow passengers would imagine, no doubt.
Once there, they get a chance to see Miss Doris Day, who is touring with Les Brown and his Band of Renown. And a good time is had by all!
But all good things must come to an end and, after dropping the gals off at the airport, the guys rent a car and hit the Overseas Highway to head down into the Florida Keys.
Just when it looks like Tom and Ronnie will finally get some time to themselves, a friend of theirs comes across a dead Cuban and is found holding the gun. He says he didn't do it, but the State's Attorney isn't convinced...
Looks like it's back to work for Daytona Beach's most infamous lawyer and his private dick!
---
| | |
| --- | --- |
| On Kindle Unlimited: | No |
| Ebook Publication Date: | December 16, 2018 |
| Word Count: | 55K |
| Paperback Publication Date: | December 22, 2018 |
| Paperback Page Count: | 240 |
---
---
About The Series: Daytona Beach Books
Welcome to a gay twist on Perry Mason! Set in the sultry south and by the beach, the Daytona Beach series of novels are about Tom Jarrell, an attorney who's just starting his own private practice, and Ronnie Grisham, Tom's private eye, long-term friend, and new-found lover.
These stories begin with Tom and Ronnie finding each other after a devastating loss and continue as the two men bring together a kind of family that neither of them could have ever imagined having.
Come take a stroll along the World's Most Famous Beach right after the Second World War. Truman is president, the men are home from Europe and the Pacific, and the Red Scare is just getting started.
It's a time and a place that no longer exists.
Take a dive in and see if you might wanna stay for a while.
---