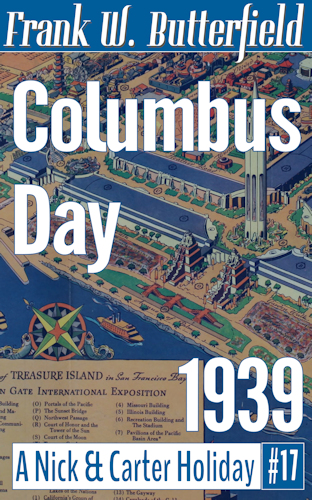 Preview
ebook
Columbus Day, 1939
Thursday, October 12, 1939
It's Columbus Day and it seems like everyone is heading to the Golden Gate International Exposition on Treasure Island in San Francisco Bay!
There are only a few days left before the thrilling exhibitions, pavilions, restaurants, and rides close down and they may not open up again in 1940.
Nick Williams and Mike Robertson are heading over to Treasure Island to tour all the pavilions of the different states and the foreign lands.
Both have been before.
Mike worked a detail there earlier in the year as a patrol officer. He never got to see anything other than the crazy crowds.
Nick snuck in with his buddies during the early days of the Exposition. He even took off with a few trinkets without paying.
Carter Jones and Henry Winters arrived in San Francisco from Georgia a couple of months ago and, only now, are finally able to make their way over to Treasure Island.
Carter, who's training to be a fireman, has been looking forward to this magical moment for a long time.
Henry is meeting him there after classes at Cal over in Berkeley.
Both couples will find their expeditions delayed by some unfortunate and coincidental encounters among the thousands of visitors who are crowding the island in celebration of Columbus Day.
But, in the end, everything sorts itself out and they all have a wonderful time.
And, who knows, maybe their paths will cross 8 years before that wonderful enchanted beginning...
---
| | |
| --- | --- |
| On Kindle Unlimited: | No |
| Ebook Publication Date: | October 12, 2020 |
| Word Count: | 8K |
---
---
About The Series: A Nick & Carter Holiday
Welcome to a year of holidays with Nick Williams and Carter Jones!
This is a series of short stories with each centered around a specific holiday.
From New Year's Day to Boxing Day, each story stands on its own and might occur in any year from the early 1920s to the first decade of the 21st Century.
---