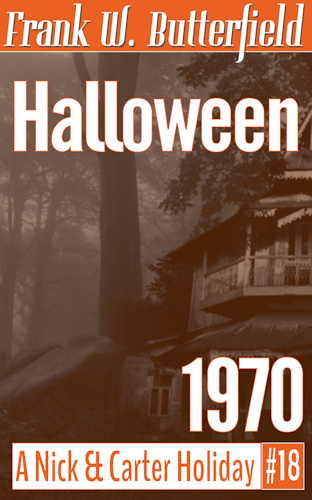 Preview
ebook
Halloween, 1970
Saturday, October 31, 1970
It's Halloween! Nick and Carter are heading down to San Luis Obispo where they're hosting a party for their favorite actress, Miss Lola Dunbar!
For reasons best known to himself, Nick insists Carter drive the Cougar down California Highway 1 instead of taking the short flight south in one of their private planes.
However, in spite of the fact that the weatherman promised a sunny and warm day, the coastal road is engulfed in a thick fog.
Just outside the tiny hamlet of Vineland, a green panel van appears out of nowhere and forces Carter off the road, causing a flat tire in the process.
Turns out they're stranded with a group of kids from the Southland just outside the iron gates of abandoned Hunter Hall.
They soon realize it's no coincidence they're all there at the same time!
Nick and Carter lead the others inside the creepy mansion to uncover the secrets of a ghostly Confederate colonel, his lost bride-to-be, hidden passages, and more!
---
| | |
| --- | --- |
| On Kindle Unlimited: | No |
| Ebook Publication Date: | October 31, 2020 |
| Word Count: | 10K |
---
---
About The Series: A Nick & Carter Holiday
Welcome to a year of holidays with Nick Williams and Carter Jones!
This is a series of short stories with each centered around a specific holiday.
From New Year's Day to Boxing Day, each story stands on its own and might occur in any year from the early 1920s to the first decade of the 21st Century.
---