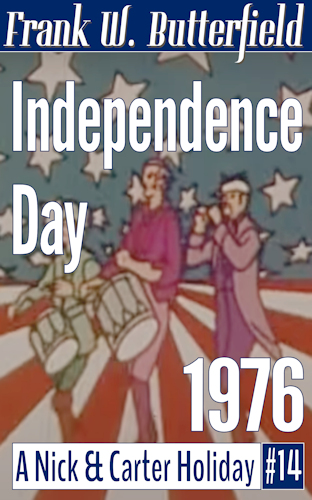 Preview
ebook
Independence Day, 1976
Sunday, July 4, 1976
It's America's Bicentennial! And it's a day the whole country has been anticipating for a while.
The original plan was for Nick and Carter to take some of the old gang out for a cruise around the bay and watch the day's fireworks up close once the sun sets.
Unfortunately, it's July in San Francisco and the forecast is for fog to settle in and not budge.
Fortunately, Nick comes up with a new plan and moves the festivities to a vacant apartment in a building he owns on Russian Hill that's above the fog line so that everyone can see the big, bright explosions celebrating the nation's independence!
Problem solved!
So, the 4th of July should be a walk in the park, right?
Well... between breakfast with a famous French director and actress, a Soviet defector who really doesn't like Nick, and a completely unexpected visitor from the past...
There might be a few metaphorical fireworks before the sun finally sets on the Golden Gate.
Still, at the end of the day, it's America's Bicentennial! Don't miss out on what promises to be great fun!
---
| | |
| --- | --- |
| On Kindle Unlimited: | No |
| Word Count: | 28K |
---
---
About The Series: A Nick & Carter Holiday
Welcome to a year of holidays with Nick Williams and Carter Jones!
This is a series of short stories with each centered around a specific holiday.
From New Year's Day to Boxing Day, each story stands on its own and might occur in any year from the early 1920s to the first decade of the 21st Century.
---