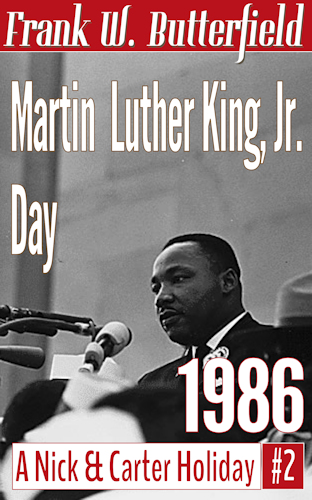 Preview
ebook
Martin Luther King, Jr., Day, 1986
Monday, January 20, 1986
It's the first holiday celebrating the life and work of Dr. Martin Luther King, Jr., and San Francisco is having a parade!
Nick and Carter are marching with Mrs. Geneva Watkins, the last living member of the powerful group of women Nick once affectionately dubbed The Four Terrors.
She's 78 and has worked hard, in her particular way, to make this day happen.
But the day starts off like many days in San Francisco during the mid 80s start off...
Nick receives a call about yet another death.
He and Carter drive over to Mission Street to deliver the news.
And the morning only goes from bad to worse.
But, in the end, the march for freedom continues even in the middle of tragedy.
After all, as Geneva reminds everyone, "Life has to go on. We, the living, owe it to the ones who left us behind."
---
| | |
| --- | --- |
| On Kindle Unlimited: | No |
| Ebook Publication Date: | January 19, 2020 |
| Word Count: | 10K |
---
---
About The Series: A Nick & Carter Holiday
Welcome to a year of holidays with Nick Williams and Carter Jones!
This is a series of short stories with each centered around a specific holiday.
From New Year's Day to Boxing Day, each story stands on its own and might occur in any year from the early 1920s to the first decade of the 21st Century.
---