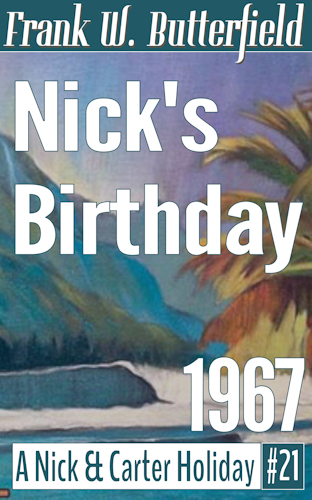 Preview
ebook
Nick's Birthday, 1967
Wednesday, November 29, 1967
It's Nick's birthday and he's turning 45!
After quietly living on Kauai for several months, Nick is happy to be doing not much of anything apart from reading the mail shipped in weekly from San Francisco.
He certainly doesn't want a fuss made over his birthday and he's made that clear to Carter.
After lunch, however, he takes a nap and has another dreamtime conversation with Pele who always appears to him in male form.
Pele says that he's giving Nick two presents for his birthday and Nick is powerless to refuse, of course.
In the end, it might just be Nick's favorite birthday to date.
If he can get through it, that is...
---
| | |
| --- | --- |
| On Kindle Unlimited: | No |
| Ebook Publication Date: | November 29, 2020 |
| Word Count: | 11K |
---
---
About The Series: A Nick & Carter Holiday
Welcome to a year of holidays with Nick Williams and Carter Jones!
This is a series of short stories with each centered around a specific holiday.
From New Year's Day to Boxing Day, each story stands on its own and might occur in any year from the early 1920s to the first decade of the 21st Century.
---