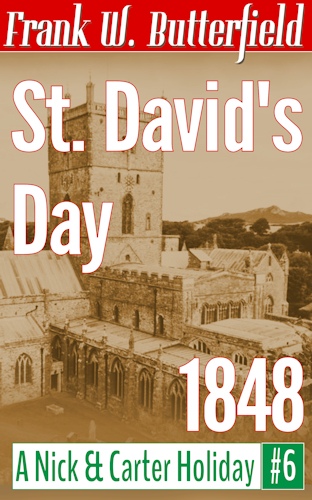 Preview
ebook
St. David's Day, 1848
Wednesday, March 1, 1848
It's the dark and early morning hours of St. David's Day and Griffith Williams, nestled and cozy next to his dear friend, Gwyn, is abruptly awakened by a man who calls out in a strange voice.
"Great-grandfather?"
Griffy is startled to see the shimmering form of a handsome man with bright and shining eyes. And they're a color of brown he's not seen before.
The face, however, is more than a little familiar. With a dimple in the chin, it brings to mind memories of his late father, his tad, David.
Is it evil or is it good which has brought forth this ghostly vision?
---
Beyond the veil and away from the rivers of time, Paul Williams is organizing a small party.
A luncheon, if you will.
He has summoned Nicholas, his great-nephew, and Janet, his great-niece, and has asked their beloveds to join in the festivities.
The main course of their other-worldly meal will be a plain but sumptuous cawl cennin, a leek and potato soup, the perfect dish for a Welsh holiday.
And the guest of honor?
His very own father, Griffith Williams.
Paul has a message and the time, as it were, has come for him to deliver it.
On St. David's Day, no less.
---
| | |
| --- | --- |
| On Kindle Unlimited: | No |
| Ebook Publication Date: | March 1, 2020 |
| Word Count: | 5K |
---
---
About The Series: A Nick & Carter Holiday
Welcome to a year of holidays with Nick Williams and Carter Jones!
This is a series of short stories with each centered around a specific holiday.
From New Year's Day to Boxing Day, each story stands on its own and might occur in any year from the early 1920s to the first decade of the 21st Century.
---