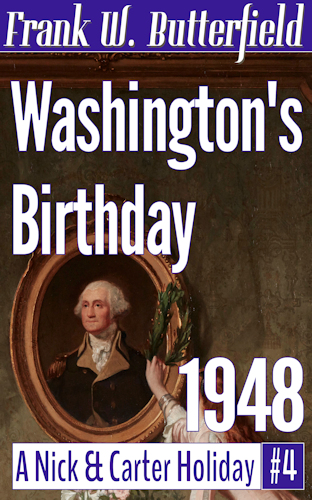 Preview
ebook
Washington's Birthday, 1948
Monday, February 23, 1948
It's a holiday. The birthday of the father of our country. Well, truth be told, it's the day after and the schools and some of the stores are closed in observance.
Meanwhile, Nick Williams is feeling blue.
He got off his shift at the hospital at 6 in the morning and managed to sleep until noon before he got up to scramble some eggs and make coffee.
Wandering around town, with his hands in his pockets, Nick is certainly feeling sorry for himself.
And it's all because his best guy, Carter Jones, is working hard at Station 3 on Post Street, protecting the City by the Bay from fires, large and small.
They've been going together for six months and Nick's still not figured out how to handle the lonely days and nights when Carter is at work.
After catching a movie at the Paramount on Market, Nick wanders over to Gene Compton's Cafeteria at Van Ness and finds his friend, Mack, sitting at a table in the back.
Maybe a bowl of navy bean soup and some friendly chatter might cheer him up...
---
Welcome to a year of holidays with Nick Williams and Carter Jones!
This is the fourth in a series of short stories all centered around specific holidays.
Each story is a vignette that stands on its own and takes place from the 1920s to 2008.
There's no plot, no surprise reveal, and not much happens other than we get to know more about Nick Williams and his good friend, Kenneth "Mack" McKnight, during the first few months of Nick's long relationship with Carter Jones.
Washington's Birthday, 1948, is just a snippet of time in a world that is long gone, but not forgotten.
---
This is a short story of about 5,300 words.
---
| | |
| --- | --- |
| On Kindle Unlimited: | No |
| Ebook Publication Date: | February 17, 2020 |
| Word Count: | 5K |
---
---
About The Series: A Nick & Carter Holiday
Welcome to a year of holidays with Nick Williams and Carter Jones!
This is a series of short stories with each centered around a specific holiday.
From New Year's Day to Boxing Day, each story stands on its own and might occur in any year from the early 1920s to the first decade of the 21st Century.
---