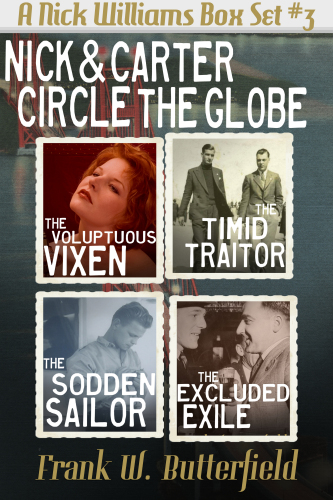 Preview
ebook
Nick & Carter Circle the Globe
This is the third of eight box sets covering the complete Nick Williams Mystery series of novels!
The four complete books in this set include:
The Voluptuous Vixen
Wednesday, August 11, 1954
Nick and Carter are sailing across the sea to Honolulu on an impromptu holiday.
For the sake of propriety and decorum, the ship's captain pairs them off with a "lady couple" who turn out to be much more than they appear at first glance.
When one of them turns up dead in Nick and Carter's cabin, the hunt is on to find the other one before it's too late.
The Timid Traitor
Tuesday, January 11, 1955
It's a cold January morning. As Nick and Carter sip their hot coffee in an attempt to stay warm, passers-by are stopping to gawk at San Francisco's newest skyscraper at 600 Market Street. The grand opening goes off without a hitch (and without the Mayor or anyone else of note, for that matter).
Meanwhile, back on Bush Street, Nick has a new client. Her name is Mrs. Anne-Marie Boudier. She's charming. She's chic. She was at Marnie's wedding on the groom's side. And she wants Nick to find her long lost husband.
So she can kill him.
And so begins a twisting and turning escapade of old secrets and new betrayals that will eventually take Nick and Carter across the Atlantic Ocean as they finally discover who the real traitor is.
The Sodden Sailor
Sunday, February 6, 1955
It's Sunday night and Nick has decided he wants to get back in the kitchen to make a couple of pans of lasagna for dinner, something he hasn't done since he and Carter moved into the big pile of rocks on Nob Hill.
Captain Daniel O'Reilly, pilot of The Flirtatious Captain, is bringing a friend for dinner. Instead of his latest love interest, the captain introduces Nick and Carter to an old friend, a man who is on his last legs and who has a favor to ask: can Nick and Carter help him get his girl and her son out of Red China?
That's where things begin but it's far from where they end...
The Excluded Exile
Monday, February 21, 1955
Nick and Carter are Down Under in Sydney at summer's end and are looking forward to finally having time to spend at the beach so Carter can get in some surfing while Nick works on his tan as a surf widow.
Everything is going to plan until they forget to make it look like they slept in both beds and are asked to leave their hotel. Fortunately, they're able to rent a house in the Eastern Suburbs atop a cliff that is two hundred feet above the Pacific. The house is perfect, with new furniture, an ocean-facing sunroom, and a housekeeper.
But then it starts to rain. And a dead body turns up in the kitchen, clobbered with a cast-iron skillet.
The questions start piling up. Who cleaned up the blood after the body was removed? Whose car is that parked at the end of the street? Will they ever make it to the beach?
In the end, it's another trans-Pacific adventure for Nick and Carter that leads home in a number of unexpected ways.
---
| | |
| --- | --- |
| On Kindle Unlimited: | No |
| Ebook Publication Date: | February 5, 2022 |
| Word Count: | 255K |
---
---
About The Series: A Nick Williams Box Set
Welcome to the world of Nick Williams!
These eight box sets include the complete Nick Williams Mysteries.
These thirty-two novels, ranging from 1953 to 1967, feature mysteries filled with suspense and intrigue while giving us insights into the world as it was and the world as it could have been.
---