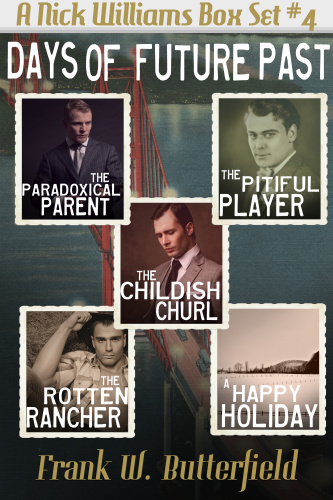 Preview
ebook
Days of Future Past
This is the fourth of eight box sets covering the complete Nick Williams Mystery series of novels!
The five complete books in this set include:
The Paradoxical Parent
Monday, March 7, 1955
It's been a big year for Nick & Carter and they are finally back home in San Francisco, trying to take it easy after all their globe-trotting adventures.
But, there's no rest for the weary, not yet, as Nick learns about the last place his mother lived before she died and is off again, across the country, going from the warm waters of the South Pacific to his first real-life snowstorm in New England.
As he and Carter, helped by Frankie & Maria Vasco, meet some of the people who once knew Nick's mother and learn more about who she was and who she loved, they also encounter one of the most disturbing things to come from Nick's own past.
After a policeman is murdered and other innocent people are threatened, Nick realizes it's time to put a stop to a killer's madness, even if it means that he has to pull the trigger himself.
The Pitiful Player
Friday, July 8, 1955
Ben White, a movie producer working on Nick's dime, is ready to show off what he's been up to, so Nick and Carter head to Hollywood to see what there is to see and, to be polite, it stinks.
Ben's director has an idea and he says it's gonna make Nick even richer than he already is.
But, before they can start the cameras rolling, leading man William Fraser is found murdered at the lavish Beverly Hills mansion of seductive silent screen star Juan Zane. Carlo Martinelli, Ben's lover, is arrested and charged with murder even though everyone in town knows he's innocent, including the District Attorney.
In the end, will anyone be brought to justice? It's Hollywood, so you'll have to wait for the final reel to find out.
The Childish Churl
Tuesday, October 11, 1955
The Lipstick, Nick's high-rise office building on Market Street, finally has a restaurant on the twentieth floor. The Sky-Brau offers freshly-sliced meats, white linens, and luncheon with a view. It's the new hot-spot in town and, who knows, you might end up sharing a table with the mayor.
Over on Nob Hill, wedding bells are ringing for Carter's mother, the soon-to-be Mrs. Louise Richardson, and Nick and Carter's big pile of rocks is where the celebration will take place. The food, as always, will be delicious. The florist has brought a small army of helpers to deck out the house in the gayest way. The dining table is loaded with gifts for the bride and groom. And, there are a few unexpected guests who show up and bring some surprises of their own.
It will be a day that none of the guests will soon forget.
The Rotten Rancher
Friday, November 11, 1955
Nick and Carter are staying at an oceanside house in Big Sur. But when the power goes out and the newly-installed generator kicks on, it's not long before Carter is dragging a bewildered Nick to the front door because, it turns out, someone intentionally disconnected the vent and the house quickly fills up with deadly carbon monoxide.
As they search for their would-be murderer, Nick and Carter quickly discover all sorts of secrets that go back twenty years, or more, and stories of wild times that would deeply shock the gawking tourists from Topeka and Des Moines, if they only knew.
Will Nick and Carter uncover the killer before he, or she, strikes again?
A Happy Holiday
Monday, December 19, 1955
It's early in the morning and Carter is worried that he and Nick won't be warm enough for their Christmas trip to Vermont.
Nick, for his part, is wondering if they will ever be able to return to the big pile of rocks he's finally come to love. An exile in France isn't the worst thing in the world but still...
But before they can get much more than halfway from San Francisco to Vermont, they discover that the mob is after them and is on their tails, chasing them across the country as they take planes, trains, and automobiles.
They finally get to Vermont, all covered in freshly-fallen white snow, and begin to wonder if it will be their last Christmas, after all.
---
| | |
| --- | --- |
| On Kindle Unlimited: | No |
| Ebook Publication Date: | February 6, 2022 |
| Word Count: | 421K |
---
---
About The Series: A Nick Williams Box Set
Welcome to the world of Nick Williams!
These eight box sets include the complete Nick Williams Mysteries.
These thirty-two novels, ranging from 1953 to 1967, feature mysteries filled with suspense and intrigue while giving us insights into the world as it was and the world as it could have been.
---