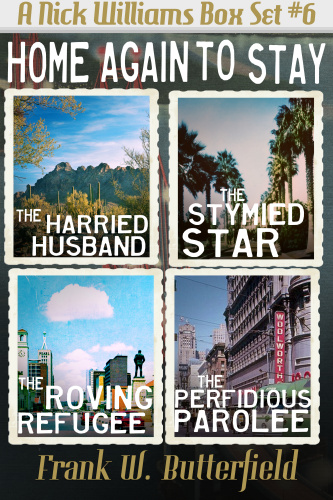 Preview
ebook
Home Again to Stay
This is the sixth of eight box sets covering the complete Nick Williams Mystery series of novels!
The four complete books in this set include:
The Harried Husband
Monday, August 8, 1960
It's been three weeks since the case against Nick and Carter was dismissed and life has moved on.
They're at home in the big pile of rocks on Nob Hill and doing swell.
It's been two weeks since Nick started seeing Dr. Sylvester, an analyst who offices in The Shell Building on Bush Street.
And on this particular Monday, at 1 p.m., the good doctor will ask Nick an important question that turns out to be something Nick has never truly considered. As he ponders the answer, he begins to wonder about the nature of his relationship with Carter.
Psychoanalysis can do that, you know.
Meanwhile, a new client wants to see Nick. He claims that only Nick will be able to catch his cheating wife in the act. And it might end up being a good deal for everyone involved. Well, almost everyone.
In order to work the case, Nick decides he needs to grow out his beard so no one will recognize him as he prowls the City. Of course, Carter is along for the ride because beard burn isn't good. So they're off to the woods for 10 days to rough it.
Or are they?
Don't turn that dial! The further adventures of Nick and Carter will continue after these messages from our sponsors.
The Stymied Star
Wednesday, November 30, 1960
It's three in the morning when the newly-installed Princess phone (with illuminated dial) next to Carter's side of the bed starts to insistently ring.
Raymond Burr from TV's Perry Mason is calling and he's in a bit of a pickle.
Someone stashed a corpse in his on-studio cottage and he's worried about how this might affect the show.
Nick and Carter fly down where they find a handsome stiff. He was a former personal assistant and wanna-be actor who turned to one of the best-paying gigs in town: male companion.
And he had a little black book chock full of famous names, home phone numbers, and careers that could easily be ruined.
But only one of them is a murderer and it's up to Nick and Carter to find out who it might be...
The Roving Refugee
Thursday, December 8, 1960
Nick and Carter are jetting across the Atlantic to the island of Capri for the funeral of the Dowager Duchess of Boston. On the way, they're dropping off Marnie and her husband, Alex, so the two can spend a relaxing few days in Paris.
When they arrive in Europe, Nick and Carter receive a distressing message. Paul Vermaut, their good friend from the Congo, is sick with a mysterious disease that has the doctors baffled. He's been on the run from the Congolese civil war, traveling thousands of miles over land, and is now hospitalized in Salisbury, the capital of Southern Rhodesia.
Right after the funeral, Nick and Carter fly south to get Paul and bring him back to the States and, hopefully, back to health.
Once they land in Salisbury, they discover Paul is dying and his lover from the Congo, Freddie Nyemba, has likely been arrested by the police for being on the grounds of the hospital illegally in an area reserved for Europeans without a pass, something required for all Africans in the British colony.
Nick and Carter have to come up with a plan to sneak Freddie out of Southern Rhodesia and into the U.S. without getting caught.
If they fail, he'll be deported to a land he loves but thrust back into the middle of a civil war he wants no part of...
The Perfidious Parolee
Tuesday, July 25, 1961
It's been 214 days since Nick and Carter promised their friends they would stay home. Los Angeles County still has a warrant out for them both, so they've been good boys and remained within the 49 square miles of the City by the Bay.
However...
Nick, being Nick, gets carried away with Ben White's idea to build a back lot for Monumental Studios on a few hundred acres in Sonoma County and drives up to have a look around.
Unfortunately, they stumble across a decaying corpse.
Fortunately, the Sonoma County sheriff's deputy doesn't notice who Nick is and he safely makes it back across the Golden Gate Bridge where Mike and Carter have something to say about Nick's carelessness.
And that's just the beginning...
1961 is a fateful year for our boys and for the City they love.
As usual, San Francisco is ahead of the rest of the country and change is in the air.
A man who performs as a woman runs for political office, the district attorney announces to the world that he's not interested in prosecuting homosexuals for what they do in private, and the first salvo in the battle of the Jeanettes versus the Tonys is fired.
Confused? You won't be once you've read all about The Perfidious Parolee!
---
| | |
| --- | --- |
| On Kindle Unlimited: | No |
| Ebook Publication Date: | February 7, 2022 |
| Word Count: | 259K |
---
---
About The Series: A Nick Williams Box Set
Welcome to the world of Nick Williams!
These eight box sets include the complete Nick Williams Mysteries.
These thirty-two novels, ranging from 1953 to 1967, feature mysteries filled with suspense and intrigue while giving us insights into the world as it was and the world as it could have been.
---