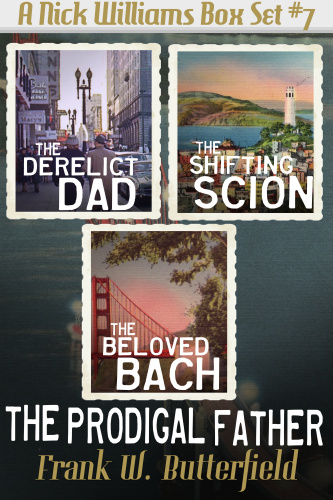 Preview
ebook
The Prodigal Father
This is the seventh of eight box sets covering the complete Nick Williams Mystery series of novels!
The three complete books in this set include:
The Derelict Dad
Monday, October 15, 1962
It's way too early on a Monday morning, but Nick and Carter are making their way across the country to a clandestine meeting in Miami with Bobby Kennedy at the Attorney General's request.
During a stop in New Orleans, they meet a kid who catches Carter's eye. He seems to be smart and on the ball and might be just the right fit for leading up the newest division of WilliamsJones, Inc.
On their last leg into Miami, they receive a radiogram that R.F.K. has had to cancel at the last minute. Determined to get some good poolside time in the hot sun, they continue on to the Sunshine State where they meet a man who turns out to recognize Carter's latest hire.
What the two have in common is a third man: Henry Thibodeaux, the kid's long-last father and the man's long-last lover.
And, as so often happens, Henry Thibodeaux has disappeared into the wilds of San Francisco.
So, the team at the newly-renamed WilliamsJones Security sets out to scour the City for any trace of the derelict dad.
As they do, they discover the man they're looking for is also being hunted down by someone bent on seeking revenge...
Will Nick and Carter and all the gang find Henry Thibodeaux in time?
The Shifting Scion
Thursday, October 18, 1962
Nick is in trouble. He's obstructing justice and might possibly be an accessory to murder, after the fact. The cops are on to him and his lawyer is very concerned.
How did this happen?
It's all because Sam Halverson, a close friend and an operative for WilliamsJones Security, has murdered a man and is on his way to Mexico to hide out from the law.
At Nick's instruction... Oh, boy!
Meanwhile, Nick's latest attempt at matchmaking appears to be falling apart. It seemed like such a perfect pairing but, apparently, the prospective couple won't be living happily ever after.
Will justice (and love) prevail?
The Beloved Bach
Saturday, October 20, 1962
Nick and Carter are on their way to New Orleans to track down a missing father.
When they arrive, Carter is in hog heaven, surrounded by the sights and sounds of New Orleans jazz up and down Bourbon Street. He even gets to sit near the stage as one of his favorite musicians leads the band with his swinging clarinet and impish smile. "Mack the Knife" never sounded so good!
That night, Nick has one of his dreams. He meets his great-grandfather, Griffith Williams, and learns a new word: bach. It's a Welsh term of endearment for a younger person, such as a great-grandson.
Meanwhile, back in San Francisco, one of Nick and Carter's operatives has broken out of the county jail after turning himself in for killing a man.
The district attorney, of course, believes that Nick is behind the escape. As does the mayor, the governor, and, of course, the Examiner.
Before long, Nick is once again seated at the defense table in Superior Court for the County of San Francisco.
This is their third try. Will the prosecution finally be able to lock him up at the state prison down in Soledad?
Or will Nick, with the help of his team of brilliant lawyers, be acquitted a third time?
Find out in the exciting conclusion to this three-book arc that's all about what happens when a father, who has abandoned his family to find his fortune, finally has to come to terms with his past.
---
| | |
| --- | --- |
| On Kindle Unlimited: | No |
| Ebook Publication Date: | February 7, 2022 |
| Word Count: | 158K |
---
---
About The Series: A Nick Williams Box Set
Welcome to the world of Nick Williams!
These eight box sets include the complete Nick Williams Mysteries.
These thirty-two novels, ranging from 1953 to 1967, feature mysteries filled with suspense and intrigue while giving us insights into the world as it was and the world as it could have been.
---