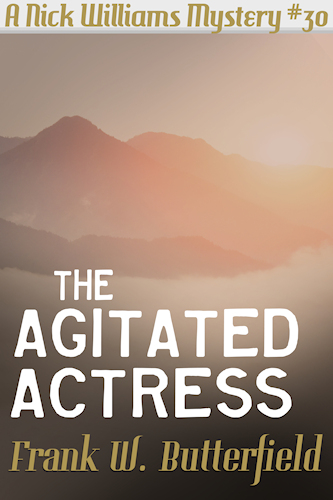 Preview
ebook
paperback
The Agitated Actress
Sunday, March 13, 1966
Nick and Carter are just finishing breakfast in their kitchen on Sacramento Street when the phone rings.
The caller is Ben White, head of Monumental Pictures, and he's calling Nick to report that the fog that has been sitting on the Bay Area for the last day or so is about to pay off.
The producers of TV's The Big Valley want to get some shots in the fog for an upcoming episode and and they're already setting up at the Monumental back lot up in Sonoma County that afternoon.
Miss Barbara Stanwyck, star of the series, has also asked to meet with Nick, who grudgingly obliges.
The next morning, when the fog is thicker than anyone can ever remember, Miss Stanwyck stumbles across a dead body.
With no way for the sheriff to get to them through the pea soup, Nick and Carter are left to find the killer before he, or she, strikes again.
---
| | |
| --- | --- |
| On Kindle Unlimited: | No |
| Ebook Publication Date: | May 1, 2019 |
| Word Count: | 45K |
| Paperback Publication Date: | May 3, 2019 |
| Paperback Page Count: | 200 |
---
---
About The Series: A Nick Williams Mystery
In 1953, the richest homosexual in San Francisco is a private investigator.
Nick Williams lives in a modest bungalow with his fireman husband, a sweet fellow from Georgia by the name of Carter Jones.
Nick's gem of a secretary, Marnie Wilson, is worried that Nick isn't working enough. She knits a lot.
Jeffrey Klein, Esquire, is Nick's friend and lawyer. He represents the guys and gals who get caught in police raids in the Tenderloin.
Lt. Mike Robertson is Nick's first love and best friend. He's a good guy who's one hell of a cop.
The Unexpected Heiress is where their stories begin. Read along and fall in love with the City where cable cars climb halfway to the stars.
Long before the Summer of Love, pride parades down Market Street, and the fight for marriage equality, San Francisco was all about the Red Scare, F.B.I. investigations, yellow journalism run amok, and the ladies who play mahjong over tea.
---