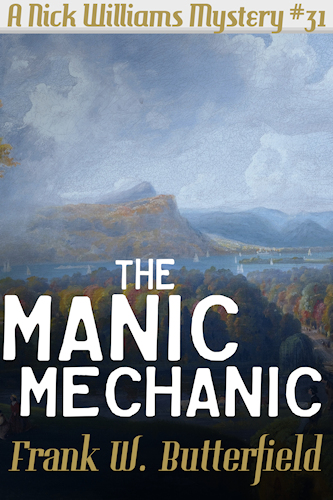 Preview
ebook
paperback
The Manic Mechanic
Monday, June 6, 1966
Nick, Carter, and the gang are off to the bright lights of Broadway!
Angela Lansbury is starring at the Winter Garden in Mame, and everyone is excited to see the biggest smash hit since Fiddler on the Roof!
Well, almost everyone.
Mike has demanded a motorcycle road trip up the Hudson River Valley as compensation for having to squeeze into a tux. Poor guy!
Reluctantly, Nick agrees and, the day after a fabulous night of singing and dancing, they're loaded up and making their way over the George Washington Bridge, up the scenic Palisades Parkway, and heading to points north.
But the trip is over when one of their friends takes a spill on the highway and ends up in traction. Nick and Carter do what they can to help and then return to Manhattan to take care of pressing business in the city before flying home.
However, after hearing a tale that is right out a mystery novel and receiving a desperate call about a murder, Nick and Carter head back upstate, hot on the trail of the curious case of The Manic Mechanic!
---
| | |
| --- | --- |
| On Kindle Unlimited: | No |
| Ebook Publication Date: | July 3, 2019 |
| Word Count: | 94K |
| Paperback Publication Date: | July 5, 2019 |
| Paperback Page Count: | 398 |
---
---
About The Series: A Nick Williams Mystery
In 1953, the richest homosexual in San Francisco is a private investigator.
Nick Williams lives in a modest bungalow with his fireman husband, a sweet fellow from Georgia by the name of Carter Jones.
Nick's gem of a secretary, Marnie Wilson, is worried that Nick isn't working enough. She knits a lot.
Jeffrey Klein, Esquire, is Nick's friend and lawyer. He represents the guys and gals who get caught in police raids in the Tenderloin.
Lt. Mike Robertson is Nick's first love and best friend. He's a good guy who's one hell of a cop.
The Unexpected Heiress is where their stories begin. Read along and fall in love with the City where cable cars climb halfway to the stars.
Long before the Summer of Love, pride parades down Market Street, and the fight for marriage equality, San Francisco was all about the Red Scare, F.B.I. investigations, yellow journalism run amok, and the ladies who play mahjong over tea.
---