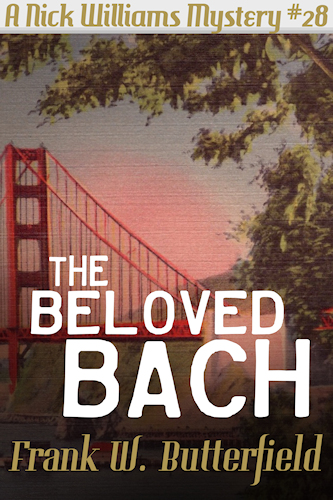 Preview
ebook
paperback
The Beloved Bach
Saturday, October 20, 1962
Nick and Carter are on their way to New Orleans to track down a missing father.
When they arrive, Carter is in hog heaven, surrounded by the sights and sounds of New Orleans jazz up and down Bourbon Street. He even gets to sit near the stage as one of his favorite musicians leads the band with his swinging clarinet and impish smile. "Mack the Knife" never sounded so good!
That night, Nick has one of his dreams. He meets his great-grandfather, Griffith Williams, and learns a new word: bach. It's a Welsh term of endearment for a younger person, such as a great-grandson.
Meanwhile, back in San Francisco, one of Nick and Carter's operatives has broken out of the county jail after turning himself in for killing a man.
The district attorney, of course, believes that Nick is behind the escape. As does the mayor, the governor, and, of course, the Examiner.
Before long, Nick is once again seated at the defense table in Superior Court for the County of San Francisco.
This is their third try. Will the prosecution finally be able to lock him up at the state prison down in Soledad?
Or will Nick, with the help of his team of brilliant lawyers, be acquitted a third time?
Find out in the exciting conclusion to this three-book arc that's all about what happens when a father, who has abandoned his family to find his fortune, finally has to come to terms with his past.
The tale starts with The Derelict Dad, followed by The Shifting Scion, and concludes here with The Beloved Bach.
---
| | |
| --- | --- |
| On Kindle Unlimited: | No |
| Ebook Publication Date: | January 3, 2019 |
| Word Count: | 57K |
| Paperback Publication Date: | January 7, 2019 |
| Paperback Page Count: | 258 |
---
---
About The Series: A Nick Williams Mystery
In 1953, the richest homosexual in San Francisco is a private investigator.
Nick Williams lives in a modest bungalow with his fireman husband, a sweet fellow from Georgia by the name of Carter Jones.
Nick's gem of a secretary, Marnie Wilson, is worried that Nick isn't working enough. She knits a lot.
Jeffrey Klein, Esquire, is Nick's friend and lawyer. He represents the guys and gals who get caught in police raids in the Tenderloin.
Lt. Mike Robertson is Nick's first love and best friend. He's a good guy who's one hell of a cop.
The Unexpected Heiress is where their stories begin. Read along and fall in love with the City where cable cars climb halfway to the stars.
Long before the Summer of Love, pride parades down Market Street, and the fight for marriage equality, San Francisco was all about the Red Scare, F.B.I. investigations, yellow journalism run amok, and the ladies who play mahjong over tea.
---