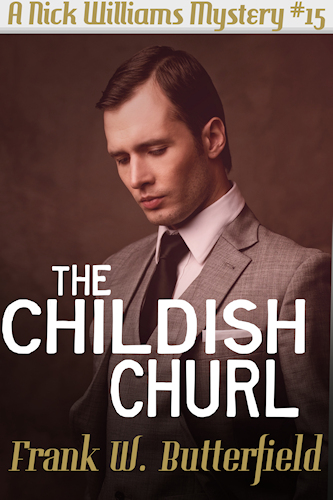 Preview
ebook
paperback
The Childish Churl
Tuesday, October 11, 1955
The Lipstick, Nick's high-rise office building on Market Street, finally has a restaurant on the twentieth floor. The Sky-Brau offers freshly-sliced meats, white linens, and luncheon with a view. It's the new hot-spot in town and, who knows, you might end up sharing a table with the mayor.
While trying to get in for some carved roast beef, Nick and Carter run into a daughter with a missing father who's been at work in Africa and hasn't been heard from in a while. Her mother isn't concerned, however. He's been out in the field for months at a time before. But, for the daughter's sake, Nick agrees to look into things.
Meanwhile, a real English lord shows up at the office with some disconcerting news and a favor to ask. Nick isn't sure who the man really is but decides to take him at his word. For the time being, at least.
Over on Nob Hill, wedding bells are ringing for Carter's mother, the soon-to-be Mrs. Louise Richardson, and Nick and Carter's big pile of rocks is where the celebration will take place. The food, as always, will be delicious. The florist has brought a small army of helpers to deck out the house in the gayest way. The dining table is loaded with gifts for the bride and groom. And, there are a few unexpected guests who show up and bring some surprises of their own.
It will be a day that none of the guests will soon forget.
---
| | |
| --- | --- |
| On Kindle Unlimited: | No |
| Ebook Publication Date: | October 1, 2017 |
| Word Count: | 88K |
| Paperback Publication Date: | November 3, 2017 |
| Paperback Page Count: | 384 |
---
---
About The Series: A Nick Williams Mystery
In 1953, the richest homosexual in San Francisco is a private investigator.
Nick Williams lives in a modest bungalow with his fireman husband, a sweet fellow from Georgia by the name of Carter Jones.
Nick's gem of a secretary, Marnie Wilson, is worried that Nick isn't working enough. She knits a lot.
Jeffrey Klein, Esquire, is Nick's friend and lawyer. He represents the guys and gals who get caught in police raids in the Tenderloin.
Lt. Mike Robertson is Nick's first love and best friend. He's a good guy who's one hell of a cop.
The Unexpected Heiress is where their stories begin. Read along and fall in love with the City where cable cars climb halfway to the stars.
Long before the Summer of Love, pride parades down Market Street, and the fight for marriage equality, San Francisco was all about the Red Scare, F.B.I. investigations, yellow journalism run amok, and the ladies who play mahjong over tea.
---