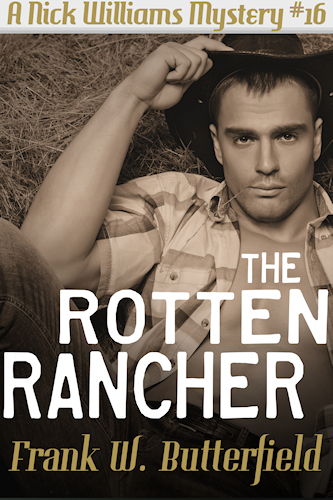 Preview
ebook
paperback
The Rotten Rancher
Friday, November 11, 1955
It's Veteran's Day, and a gorgeous one at that. Parades of flying flags and grizzled old soldiers marching to the tunes of John Philip Souza are definitely in the works.
Meanwhile, Nick and Carter are heading south on Hiqhway 1 for a relaxing week down in Big Sur, just south of beautiful Carmel-By-The-Sea. They'll be staying at the home of one Dr. Parnell Williams, Nick's father. It's a modern sort of thing, made of wood and glass, and perched right on the cliff's edge with dramatic views of the ocean and the incoming banks of fog.
But when the power goes out late at night and the newly-installed generator kicks on, it's not long before Carter is dragging a bewildered Nick to the front door because, it turns out, someone intentionally disconnected the vent and the house quickly fills up with deadly carbon monoxide.
As they search for their would-be murderer, Nick and Carter quickly discover all sorts of secrets, hidden away among the verdant valleys and stands of Monterey pines. Secrets that go back twenty years, or more, and stories of wild times that would deeply shock the gawking tourists from Topeka and Des Moines, if they only knew.
Will Nick and Carter uncover the killer before he, or she, strikes again?
To find out, jump into the nearest convertible and follow the narrow, twisting highway that takes you through the land of towering, ancient redwoods and mountains that crash into the bright, blue ocean below.
It's gonna be a wild ride!
---
| | |
| --- | --- |
| On Kindle Unlimited: | No |
| Ebook Publication Date: | October 29, 2017 |
| Word Count: | 70K |
| Paperback Publication Date: | November 4, 2017 |
| Paperback Page Count: | 300 |
---
---
About The Series: A Nick Williams Mystery
In 1953, the richest homosexual in San Francisco is a private investigator.
Nick Williams lives in a modest bungalow with his fireman husband, a sweet fellow from Georgia by the name of Carter Jones.
Nick's gem of a secretary, Marnie Wilson, is worried that Nick isn't working enough. She knits a lot.
Jeffrey Klein, Esquire, is Nick's friend and lawyer. He represents the guys and gals who get caught in police raids in the Tenderloin.
Lt. Mike Robertson is Nick's first love and best friend. He's a good guy who's one hell of a cop.
The Unexpected Heiress is where their stories begin. Read along and fall in love with the City where cable cars climb halfway to the stars.
Long before the Summer of Love, pride parades down Market Street, and the fight for marriage equality, San Francisco was all about the Red Scare, F.B.I. investigations, yellow journalism run amok, and the ladies who play mahjong over tea.
---