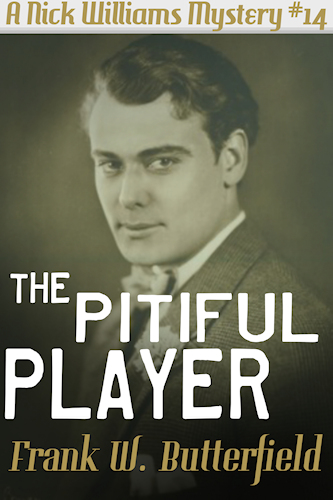 Preview
ebook
paperback
The Pitiful Player
Friday, July 8, 1955
Ben White, a movie producer working on Nick's dime, is ready to show off what he's been up to, so Nick and Carter head to Hollywood to see what there is to see and, to be polite, it stinks.
Ben's director has an idea and he says it's gonna make Nick even richer than he already is.
But, before they can start the cameras rolling, leading man William Fraser is found murdered at the lavish Beverly Hills mansion of seductive silent screen star Juan Zane. Carlo Martinelli, Ben's lover, is arrested and charged with murder even though everyone in town knows he's innocent, including the District Attorney.
Meanwhile, the Beverly Hills Police Chief makes sure that Nick knows that his kind of help isn't wanted in the posh village, home to some of Hollywood's most famous stars. The chief is running a good, clean, wholesome town, after all.
From Muscle Beach to Mulholland Drive, Nick and Carter begin to piece together the clues that point to who did it and why. Somehow they manage to do so in the sweltering heat and noxious smog of the Southland.
In the end, however, will anyone be brought to justice? It's Hollywood, so you'll have to wait for the final reel to find out.
---
| | |
| --- | --- |
| On Kindle Unlimited: | No |
| Ebook Publication Date: | September 7, 2017 |
| Word Count: | 117K |
| Paperback Publication Date: | September 12, 2017 |
| Paperback Page Count: | 508 |
---
---
About The Series: A Nick Williams Mystery
In 1953, the richest homosexual in San Francisco is a private investigator.
Nick Williams lives in a modest bungalow with his fireman husband, a sweet fellow from Georgia by the name of Carter Jones.
Nick's gem of a secretary, Marnie Wilson, is worried that Nick isn't working enough. She knits a lot.
Jeffrey Klein, Esquire, is Nick's friend and lawyer. He represents the guys and gals who get caught in police raids in the Tenderloin.
Lt. Mike Robertson is Nick's first love and best friend. He's a good guy who's one hell of a cop.
The Unexpected Heiress is where their stories begin. Read along and fall in love with the City where cable cars climb halfway to the stars.
Long before the Summer of Love, pride parades down Market Street, and the fight for marriage equality, San Francisco was all about the Red Scare, F.B.I. investigations, yellow journalism run amok, and the ladies who play mahjong over tea.
---