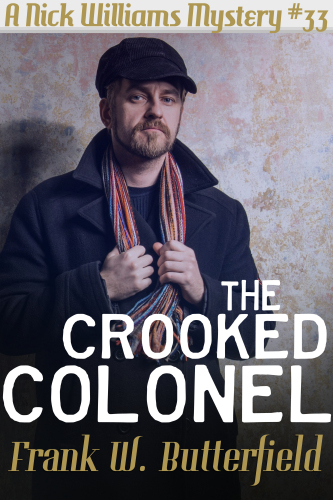 Preview
ebook
paperback
The Crooked Colonel
Thursday, January 1, 1970
After a night of revelry at their newest hotel, the Hopkins Excelsior, in Viña del Mar, Chile, Nick and Carter head up the coast for some surfing along with their nephews, Kermit and Ernie.
Once there, they meet up with two interesting characters.
The first is a sweet gal in her early 20s who shows up in the strangest places but always at the right time.
The other is a strange and very much out-of-place American military officer.
One thing leads to another, and before Nick and Carter know what's happening, they find themselves embroiled in a conspiracy that could have serious international implications.
From the coast of Chile to a Spanish town in the hills of the Basque Country and all the way to the halls of Buckingham Palace, Nick and Carter are hot on the heels of The Crooked Colonel!
---
Playlist for this book:
---
| | |
| --- | --- |
| On Kindle Unlimited: | No |
| Ebook Publication Date: | November 17, 2019 |
| Ebook Publication Date: | November 20, 2019 |
---
---
About The Series: A Nick Williams Mystery
In 1953, the richest homosexual in San Francisco is a private investigator.
Nick Williams lives in a modest bungalow with his fireman husband, a sweet fellow from Georgia by the name of Carter Jones.
Nick's gem of a secretary, Marnie Wilson, is worried that Nick isn't working enough. She knits a lot.
Jeffrey Klein, Esquire, is Nick's friend and lawyer. He represents the guys and gals who get caught in police raids in the Tenderloin.
Lt. Mike Robertson is Nick's first love and best friend. He's a good guy who's one hell of a cop.
The Unexpected Heiress is where their stories begin. Read along and fall in love with the City where cable cars climb halfway to the stars.
Long before the Summer of Love, pride parades down Market Street, and the fight for marriage equality, San Francisco was all about the Red Scare, F.B.I. investigations, yellow journalism run amok, and the ladies who play mahjong over tea.
---