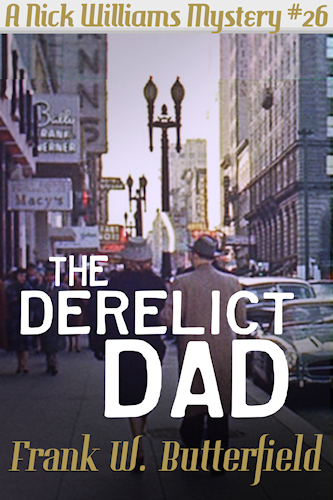 Preview
ebook
paperback
The Derelict Dad
Monday, October 15, 1962
It's way too early on a Monday morning, but Nick and Carter are making their way across the country to a clandestine meeting in Miami with Bobby Kennedy at the Attorney General's request.
During a stop in New Orleans, they meet a kid who catches Carter's eye. He seems to be smart and on the ball and might be just the right fit for leading up the newest division of WilliamsJones, Inc.
On their last leg into Miami, they receive a radiogram that R.F.K. has had to cancel at the last minute. Determined to get some good poolside time in the hot sun, they continue on to the Sunshine State where they meet a man who turns out to recognize Carter's latest hire.
What the two have in common is a third man: Henry Thibodeaux, the kid's long-lost father and the man's long-lost lover.
And, as so often happens, Henry Thibodeaux has disappeared into the wilds of San Francisco.
So, the team at the newly-renamed WilliamsJones Security sets out to scour the City for any trace of the derelict dad.
As they do, they discover the man they're looking for is also being hunted down by someone bent on seeking revenge...
Will Nick and Carter and all the gang find Henry Thibodeaux in time?
Find out in this, the first book in a three-part story arc, that's all about what happens when a father, who has abandoned his family to find his fortune, finally has to come to terms with his past.
---
| | |
| --- | --- |
| On Kindle Unlimited: | No |
| Ebook Publication Date: | October 28, 2018 |
| Word Count: | 56K |
| Paperback Publication Date: | November 2, 2018 |
| Paperback Page Count: | 246 |
---
---
About The Series: A Nick Williams Mystery
In 1953, the richest homosexual in San Francisco is a private investigator.
Nick Williams lives in a modest bungalow with his fireman husband, a sweet fellow from Georgia by the name of Carter Jones.
Nick's gem of a secretary, Marnie Wilson, is worried that Nick isn't working enough. She knits a lot.
Jeffrey Klein, Esquire, is Nick's friend and lawyer. He represents the guys and gals who get caught in police raids in the Tenderloin.
Lt. Mike Robertson is Nick's first love and best friend. He's a good guy who's one hell of a cop.
The Unexpected Heiress is where their stories begin. Read along and fall in love with the City where cable cars climb halfway to the stars.
Long before the Summer of Love, pride parades down Market Street, and the fight for marriage equality, San Francisco was all about the Red Scare, F.B.I. investigations, yellow journalism run amok, and the ladies who play mahjong over tea.
---