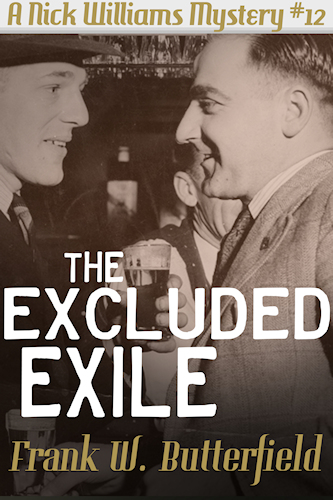 Preview
ebook
paperback
The Excluded Exile
Monday, February 21, 1955
Nick and Carter are Down Under in Sydney at summer's end and are looking forward to finally having time to spend at the beach so Carter can get in some surfing while Nick works on his tan as a surf widow.
Everything is going to plan until they forget to make it look like they slept in both beds and are asked to leave their hotel. Fortunately, they're able to rent a house in the Eastern Suburbs atop a cliff that is two hundred feet above the Pacific. The house is perfect, with new furniture, an ocean-facing sunroom, and a housekeeper.
But then it starts to rain. And a dead body turns up in the kitchen, clobbered with a cast-iron skillet.
The questions start piling up. Who cleaned up the blood after the body was removed? Whose car is that parked at the end of the street? Will they ever make it to the beach?
In the end, it's another trans-Pacific adventure for Nick and Carter that leads home in a number of unexpected ways.
---
| | |
| --- | --- |
| On Kindle Unlimited: | No |
| Ebook Publication Date: | June 29, 2017 |
| Word Count: | 65K |
| Paperback Publication Date: | July 22, 2017 |
| Paperback Page Count: | 284 |
---
---
About The Series: A Nick Williams Mystery
In 1953, the richest homosexual in San Francisco is a private investigator.
Nick Williams lives in a modest bungalow with his fireman husband, a sweet fellow from Georgia by the name of Carter Jones.
Nick's gem of a secretary, Marnie Wilson, is worried that Nick isn't working enough. She knits a lot.
Jeffrey Klein, Esquire, is Nick's friend and lawyer. He represents the guys and gals who get caught in police raids in the Tenderloin.
Lt. Mike Robertson is Nick's first love and best friend. He's a good guy who's one hell of a cop.
The Unexpected Heiress is where their stories begin. Read along and fall in love with the City where cable cars climb halfway to the stars.
Long before the Summer of Love, pride parades down Market Street, and the fight for marriage equality, San Francisco was all about the Red Scare, F.B.I. investigations, yellow journalism run amok, and the ladies who play mahjong over tea.
---