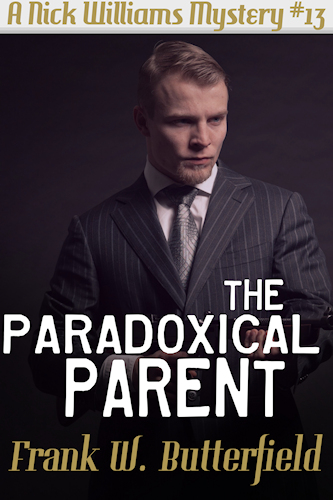 Preview
ebook
paperback
The Paradoxical Parent
Monday, March 7, 1955
It's been a big year for Nick & Carter and they are finally back home in San Francisco, trying to take it easy after all their globe-trotting adventures.
But, there's no rest for the weary, not yet, as Nick learns about the last place his mother lived before she died and is off again, across the country, going from the warm waters of the South Pacific to his first real-life snowstorm in New England.
As he and Carter, helped by Frankie & Maria Vasco, meet some of the people who once knew Nick's mother and learn more about who she was and who she loved, they also encounter one of the most disturbing things to come from Nick's own past.
After a policeman is murdered and other innocent people are threatened, Nick realizes it's time to put a stop to a killer's madness, even if it means that he has to pull the trigger himself.
---
| | |
| --- | --- |
| On Kindle Unlimited: | No |
| Ebook Publication Date: | July 31, 2017 |
| Word Count: | 66K |
| Paperback Publication Date: | August 5, 2017 |
| Paperback Page Count: | 290 |
---
---
About The Series: A Nick Williams Mystery
In 1953, the richest homosexual in San Francisco is a private investigator.
Nick Williams lives in a modest bungalow with his fireman husband, a sweet fellow from Georgia by the name of Carter Jones.
Nick's gem of a secretary, Marnie Wilson, is worried that Nick isn't working enough. She knits a lot.
Jeffrey Klein, Esquire, is Nick's friend and lawyer. He represents the guys and gals who get caught in police raids in the Tenderloin.
Lt. Mike Robertson is Nick's first love and best friend. He's a good guy who's one hell of a cop.
The Unexpected Heiress is where their stories begin. Read along and fall in love with the City where cable cars climb halfway to the stars.
Long before the Summer of Love, pride parades down Market Street, and the fight for marriage equality, San Francisco was all about the Red Scare, F.B.I. investigations, yellow journalism run amok, and the ladies who play mahjong over tea.
---