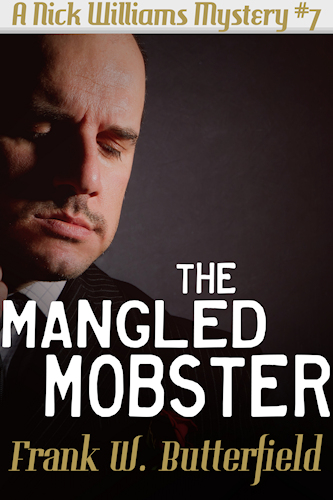 Preview
ebook
paperback
The Mangled Mobster
Wednesday, June 16, 1954
Construction on the new twenty-story building for Consolidated Security at the corner of Market and Montgomery is ahead of schedule, thanks to Henry and Pam. Nick is looking forward to his office on the nineteenth floor. The twentieth floor is designed to be a restaurant. He's hoping for French or Italian. Carter wants something with less garlic.
But then an unknown man falls from the top of the steel skeleton and things grind to a halt.
When Henry gets a late-night call warning him and Nick to not investigate, Mike takes action to protect them both but Nick gets a late-night visit from some wiseguys and it doesn't end well... for them.
That's just the beginning of a tale of mobsters, refugees, and The Old Poodle Dog that twists and turns its way to a thrilling conclusion.
In the end, it's an adventure for Nick, Carter, and the whole gang in the City we love the most: Baghdad By The Bay.
---
| | |
| --- | --- |
| On Kindle Unlimited: | No |
| Ebook Publication Date: | December 30, 2016 |
| Word Count: | 61K |
| Paperback Publication Date: | January 25, 2017 |
| Paperback Page Count: | 274 |
---
---
About The Series: A Nick Williams Mystery
In 1953, the richest homosexual in San Francisco is a private investigator.
Nick Williams lives in a modest bungalow with his fireman husband, a sweet fellow from Georgia by the name of Carter Jones.
Nick's gem of a secretary, Marnie Wilson, is worried that Nick isn't working enough. She knits a lot.
Jeffrey Klein, Esquire, is Nick's friend and lawyer. He represents the guys and gals who get caught in police raids in the Tenderloin.
Lt. Mike Robertson is Nick's first love and best friend. He's a good guy who's one hell of a cop.
The Unexpected Heiress is where their stories begin. Read along and fall in love with the City where cable cars climb halfway to the stars.
Long before the Summer of Love, pride parades down Market Street, and the fight for marriage equality, San Francisco was all about the Red Scare, F.B.I. investigations, yellow journalism run amok, and the ladies who play mahjong over tea.
---