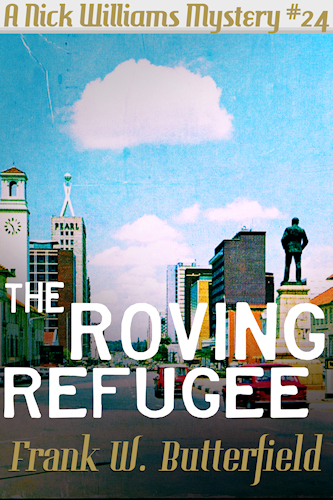 Preview
ebook
paperback
The Roving Refugee
Thursday, December 8, 1960
Nick and Carter are jetting across the Atlantic to the island of Capri for the funeral of the Dowager Duchess of Boston. On the way, they're dropping off Marnie and her husband, Alex, so the two can spend a relaxing few days in Paris.
When they arrive in Europe, Nick and Carter receive a distressing message. Paul Vermaut, their good friend from the Congo, is sick with a mysterious disease that has the doctors baffled. He's been on the run from the Congolese civil war, traveling thousands of miles over land, and is now hospitalized in Salisbury, the capital of Southern Rhodesia.
Right after the funeral, Nick and Carter fly south to get Paul and bring him back to the States and, hopefully, back to health.
Once they land in Salisbury, they discover Paul is dying and his lover from the Congo, Freddie Nyemba, has likely been arrested by the police for being on the grounds of the hospital illegally in an area reserved for Europeans without a pass, something required for all Africans in the British colony.
Nick and Carter have to come up with a plan to sneak Freddie out of Southern Rhodesia and into the U.S. without getting caught.
If they fail, he'll be deported to a land he loves but thrust back into the middle of a civil war he wants no part of...
---
| | |
| --- | --- |
| On Kindle Unlimited: | No |
| Ebook Publication Date: | August 9, 2018 |
| Word Count: | 68K |
| Paperback Publication Date: | September 18, 2018 |
| Paperback Page Count: | 292 |
---
---
About The Series: A Nick Williams Mystery
In 1953, the richest homosexual in San Francisco is a private investigator.
Nick Williams lives in a modest bungalow with his fireman husband, a sweet fellow from Georgia by the name of Carter Jones.
Nick's gem of a secretary, Marnie Wilson, is worried that Nick isn't working enough. She knits a lot.
Jeffrey Klein, Esquire, is Nick's friend and lawyer. He represents the guys and gals who get caught in police raids in the Tenderloin.
Lt. Mike Robertson is Nick's first love and best friend. He's a good guy who's one hell of a cop.
The Unexpected Heiress is where their stories begin. Read along and fall in love with the City where cable cars climb halfway to the stars.
Long before the Summer of Love, pride parades down Market Street, and the fight for marriage equality, San Francisco was all about the Red Scare, F.B.I. investigations, yellow journalism run amok, and the ladies who play mahjong over tea.
---