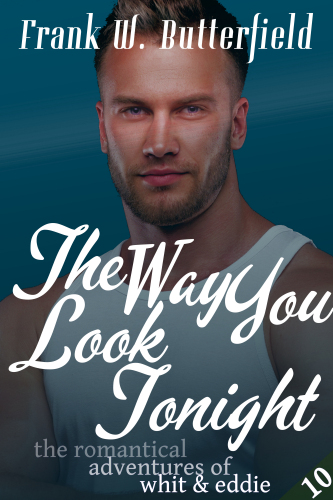 Preview
ebook
paperback
The Way You Look Tonight
Saturday, July 17, 2021
Whit and Eddie are at their place in San Antonio, having moved there for the upcoming Matadors football season, and are throwing a pool party for family and friends.
While Eddie's mother is whipping up a massive amount of cole slaw from an old family recipe, Whit is outside trying to figure out how their new (and also massive) gas grill actually works.
That evening, after everyone's gone home, Whit receives a distressing call from his mother. His Aunt Sherry has unexpectedly passed away.
This is just the first of a series of unexpected events that bring all sorts of, uh, well, interesting people back into their lives. Some are crazy and delightful while some are just crazy.
Meanwhile, there's a wedding coming up for their two best friends and Whit and Eddie will be glad to get there because, after all, it's nice to be somewhere and not be the center of attention for a change.
Right?
. . .
CAUTION: This book is just your run-of-the-mill billionaires-in-love, football-player-adores-his-chubby-bear-husband kind of romantic slice-of-life story!
No one dies (well, other than poor Aunt Sherry) and no one gets shot at (well, not really) and there's no one being tracked (well, you know, other than Whit and Eddie).
There is a cool vintage car (that's bumpy and doesn't take curves well), a wacky grandmother (with one helluva hot husband), and a cousin who may or may not need counseling (and a refresher course in how to steer a boat).
Also, be on the lookout for a working paddleboat, a handful of very special guest stars, and a conspiracy (which isn't always a bad thing).
---
| | |
| --- | --- |
| On Kindle Unlimited: | No |
| Ebook Publication Date: | August 3, 2021 |
| Word Count: | 71K |
---
---
About The Series: The Romantical Adventures of Whit & Eddie
Howdy! I'm Eddie. Whit and I have fallen in love way too fast.
We're jumping into our new life together in ways that no one with a lick of sense should ever do.
Woo hoo! This is going to be fun!
---
If you're new to this series, start with the prequel where Whit and Eddie meet and fall in love:
---